LogoWatch Oldham Council has failed to follow its own motto - "Sapere Aude", or "dare to be wise" in the local dialect - and has spunked £100k on a couple of circles and its own name.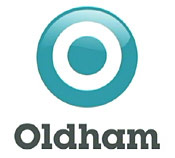 Yup, the consultants behind the radical rebrand must have worn out a few whalesong CDs brainstorming their way to the new brand frontage for the municipality, seen here without the additional inspirational and synergistic "one" which will be added selectively to the word "Oldham" under a thrilling "One Oldham" banner.
Liz Terry, director for strategy and resources, inhaled deeply on a joss-stick and said: "Branding is about managing a reputation and what we have been hearing from people is some out-of-date, negative views about Oldham as a place and as a council. So we felt we needed to do something about that.
"The main picture that people will see is a circle. It's a circle of unity, it's about oneness, it's about saying, 'We're about many places but one destination,' for example."
In case you're wondering where the dead owl comes into it, the cuddly creature is the town's symbol - now relegated to the traditional crest where it'll be exiled with the "Sapere Aude" words of wisdom.
According to the Beeb, the locals are not all that impressed with the new image, due to be rolled out over the next few weeks. One unnamed woman told Auntie: "Owls are the symbol of Oldham so I would have thought if they put an owl in the middle of there it would be better." ®