Apple has updated Apple Software Update, giving iTunes and Quicktime users (a bit) more notice before slipping Safari onto their Windows machines.
But Mozilla is still peeved.
In mid-March, Steve Jobs unveiled Safari 3.1, and to celebrate, he started offering the new browser to Windows users via the software updater that accompanies iTunes and Quicktime. This was an offer that millions were less than likely to refuse. Safari was not listed as a new program. It was listed as just another update. And the install button was checked by default: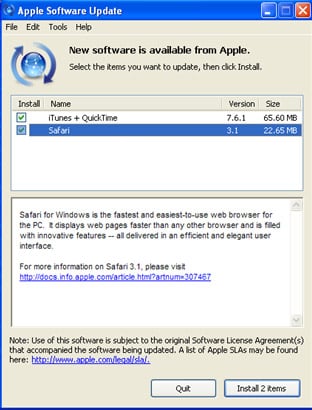 Apple forces Safari onto Windows
This annoyed some people, including Mozilla CEO John Lilly, who accused Jobs of jeopardizing the security of the entire internet.
"What Apple is doing now with their Apple Software Update on Windows is wrong," Lilly said. "It undermines the trust relationship great companies have with their customers, and that's bad - not just for Apple, but for the security of the whole Web."
Three weeks later, Apple has tweaked Software Update, clearly identifying Safari as new software. But the install button is still checked by default: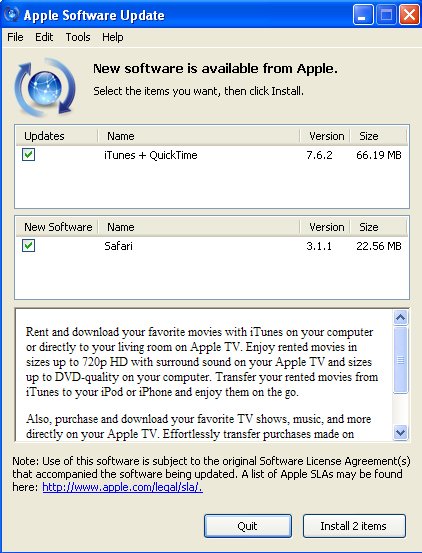 Apple Software Update Update
Naturally, Mozilla thinks Jobs and company haven't gone far enough. "This is a good first step," Mozilla director of community development Asa Dotzler wrote yesterday. "Now Apple needs to stop checking the box for 'New Software' items by default. With that change, I think I'd be pretty happy to let the Apple Software Update service back on my Windows machine."
But - as we've said before - Mozilla is worried about more than just the security of the entire internet. It's worried about market share.
It should also be noted that if you're not running the latest version of Apple Software Update - version 2.1 - Apple no longer offers you Safari. At all.
At least, that's what we're seeing. This morning, running an older version of Update, Safari was not offered when we forced an Update launch. But we did get the offer once we updated the updater. ®