DARPA in search for five-year-mission solar wingship
'Vulture' Enterprise-style stratocruiser compo is go
The Pentagon's blue-sky technology office has finally announced the three contenders who will take forward its Vulture project.
Counter intuitively, the plan involves no thirsty technology scribblers, nor even shy paparazzi. Rather, the idea is to build a remarkable machine which could do away with the need for certain spacecraft - it would be able to cruise high above the Earth's surface on missions for the US government lasting no less than five years.
The plan for these stratospheric Starship Enterprise-esque cruisers comes, of course, from DARPA* - the place where ordinary bleeding edge kit doesn't cut the mustard. Here's a concept vid of how they think Vulture might look:
(You need Flash and a YouTube-compliant firewall to see it.)
The rough idea is to build an enormous yet feather-light flying wing covered in solar cells. The cells will gather sufficient power during daylight hours to drive the bird - and deliver 5 kilowatts for the payload - around the clock for five years.
That's not going to be easy, and just to round things off the Vulture must be able to lift half a tonne and hold still against screaming stratospheric winds 99 per cent of the time.
The actual nature of the payload isn't specified, but such a craft would obviously be good for communications and surveillance tasks.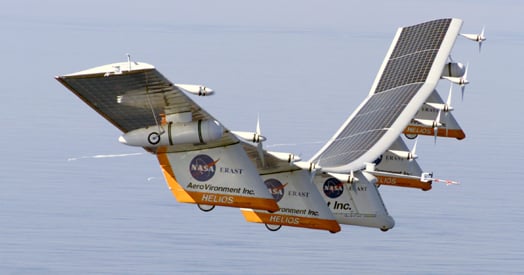 Captain Kirk not required on this five year mission.
Thus far, the solar spyplane endurance record is reportedly just two nights (with no payload) in the case of Qinetiq's "Zephyr" testbed.
Zephyr already has a 50 foot wingspan, too, so one might take it that the Vulture will be more on the order of the jumbo-jet sized Aerovironment Helios, or even bigger. (Helios, a NASA-funded prototype, broke up and crashed in 2003.)
Flight International now reports that DARPA has now selected three firms to do initial design studies for Vulture.
The named companies are Aurora Flight Sciences, Boeing, and Lockheed. Aurora says it will give details of its Odysseus concept later this month, and has disclosed that it is partnered with BAE Systems, Draper Lab, and Sierra Nevada for the effort. Lockheed and Boeing haven't yet said who they're working with, but it would be no surprise to see Aerovironment in the lineup. ®
*The Defense Advanced Research Projects Agency.