Hard drives could experience a massive increase in capacity next year now that a "major" HDD maker has placed an order for equipment to mass-produce 'patterned media' drives.
Earlier this week, Malmö, Sweden-based fabrication-equipment maker Obducat announced it had reached an agreement with "a major player in th HDD industry" to supply the unnamed company with up to SKR66m ($11.13m) worth of lithography hardware.
Obducat will provide the mystery vendor with a "production-ready" Sindre lithography machine, used to create the high data-density surfaces used by the new drive technology. More equipment orders may follow, the Swedish firm said.
Fujitsu is a possible candidate for the HDD maker behind the Obducat deal - it has worked on patterned media technology since 2005. Canon was working on the technology in the early years of the decade and continues to do so, but it's not a major hard drive maker.
The technique involves establishing microscopic 'nanoholes' within a sheet of aluminium oxide. The holes form a pattern, hence the name.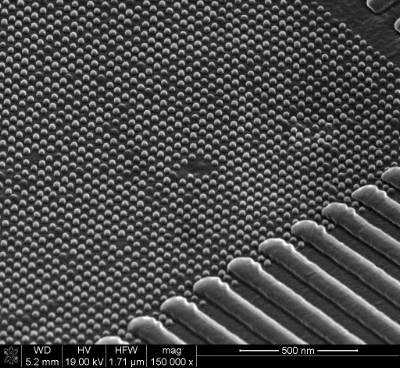 Patterned media nanoholes
Each hole is filled with a magnetic material, each holding a single data bit. The surrounding oxide insulates each hole from its neighbours, preventing data corruption.
The holes are so small, they can only be created using the lithography techniques employed to make microprocessors and other chips.
Obducat claims its Sindre systems have been used to create holes as small at 17nm in diameter - not far short of the 13nm that Fujitsu last year reckoned was required to yield an areal density of 1TB per square inch.
That compares with the 65GB per square inch record claimed by Western Digital back in October 2007 - and even that's higher than the 25GB per square inch density of typical HDDs.
Obducat said its customer will take delivery of the first Sindre litho systems in "the first half of 2009". The machines are designed to work on 4, 6 or 8in wafers and, Obducat claims, can churn out discs at a rate of up to 30 per hour.
Yields are another matter, of course, but the company has the best part of a year to work on that, with further tweaking once its customer gets the systems in place. Another major challenge is getting the nanoholes into the precise order needed for read/write heads to access their contents efficiently.
Thanks to reader Patrik Stockselius for the tip
Similar topics