Review It may not be as eye-catching as a Walkman music mobile or a Cyber-shot cameraphone, the K660i's web-focused features may grab another type of user in a similar way, Sony Ericsson hopes.
The candybar K660i is SE's first mid-tier handset to be marketed specifically for its online-friendliness, and it features a set of illuminated browser shortcut keys that become active when surfing, 3G HSDPA for mobile broadband connectivity, and a browser with landscape mode as the default setting.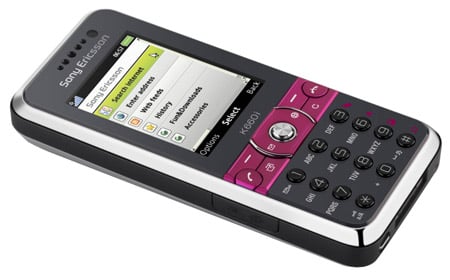 Sony Ericsson's K660i: the internet in your pocket, apparently
The K660i's other features are typical of a mid-range 3G mobile. The display is standard-sized for a Sony Ericsson mid-ranger: a 2in, 240 x 320, 262,000-colour job. Video calling is facilitated by a camera on the front, with a two-megapixel camera doing the main shooting duties on the back. There are music and video players on board, but there's no Wi-Fi connectivity on this phone. The K660i has also been loaded with a Google Maps, and an on-screen RSS ticker is included too.
But while web optimisation may be the main selling point, in reality there's no new 'super browser' experience – virtually all of the web functionality built into the K660i has been seen before on other recent 3G phones, such as the Walkman W890i - reviewed here. Instead, the differentiator is the emphasis placed on user-friendliness.
The illuminated browser shortcut buttons are a first here. They echo Sony Ericsson's recent Cyber-shot camera control shortcut keys. Lined up alongside the 3, 6, 9 and # keys, four miniature icons light up when you launch the browser. Holding the phone in landscape orientation, you can take the browser shortcuts by tapping the relevant number buttons below them.