However, when you start entering text for addresses or searches, the input frame slips the screen back into portrait mode to make numberpad letter tapping easier. This is a sensible arrangement given the keypad limitations, but it means you'll be flipping the phone back and forth during extended surfing sessions. The keys are very small and round, which some users may find too titchy - we had no problems, but we'd have preferred more substantial buttons.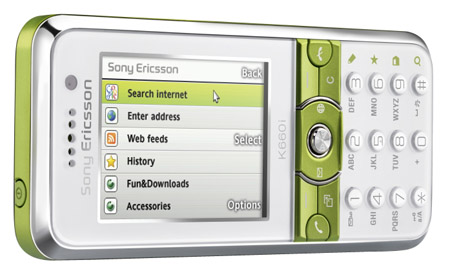 Browser shortcuts are integrated into the keypad
This phone is a pocketable 104 x 47 x 15mm and weighs a moderate 95g. The K660i's design includes striking colour contrasts across the central control button panel, in either wine-on-black or lime-on-white combos. A touch of chrome edging accents the stylish look. The control button arrangement is centred on the navigation pad, which has a web browser icon marked on it. It's other shortcuts can be configured by the user.
The controls follow Sony Ericsson's most recent, more conventional layout, featuring standard Call and End keys, with soft-menu keys, a clear key plus an 'Activity Menu' button that pulls up a mini-menu of handy apps and functions, including Bluetooth, TrackID and Google Maps.
The main menu seems to have left alone, using its typical grid of icons leading to tabbed sub-menu lists.
It's unusual to get the browser's launch page immediately in landscape mode, though should you wish to it's easy to toggle between portrait, landscape and full-screen views by tapping the * key. The launch page layout is the same straightforward presentation as we've seen before recently, with a Google search bar on top of an address bar, an RSS feed link, history option, and links to Sony Ericsson download and product information sites.
Similar topics