Although not a member of the Walkman clan, the K660i's music player has a sophisticated look and feel. Tracks are arranged in familiar categories, too, including artists, albums, playlists, audio books and podcasts. Album cover art is supported too, and you can sync tunes with a PC using the supplied Media Manager software and USB cable. As usual, you can also drag and drop tracks in mass storage mode, too, or slip in a preloaded Memory Stick Micro (M2) card.
The K660i comes with a 256MB M2 card to supplement its 32MB of internal capacity - there's a slot on the side of the phone for quick swapping. The music player can put up a fine performance. However, the bundled earphones are again average and don't reproduce the quality of a comparable Walkman phone's ear-set.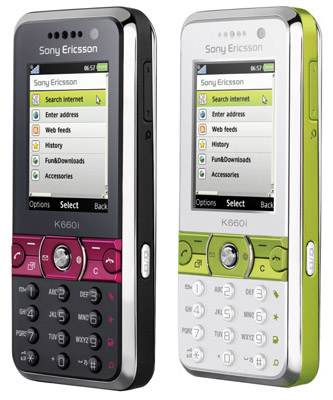 Available in either wine-on-black or lime-on-white combos
The sound through the supplied 'phones can be much improved if you upgrade the earwear – though there's no 3.5mm socket in the phone or an adaptor supplied for standard headphones. Using one snaffled from a Walkman phone with our reference Sennheisers, you can really get the most from the player, though modestly-priced higher quality earphones will make a difference too. Bluetooth headphones are another option. Anyone looking for a bit of free entertainment will also appreciate the RDS FM radio included on this phone. TrackID music clip identification software is also part of the music package too.
Google Maps is a feature we've been pleased to see arriving pre-loaded on a number of recent phones. You don't need a GPS receiver - instead, the app uses cellsite triangulation to determine a rough area for your location, and pulls up mapping, satellite imaging and other information automatically over the air.
Accuracy is within a few hundred metres radius - your approximate location is illustrated by a shaded circle on a map - depending on cellsite density. While this isn't GPS accuracy, the service does enable you to get maps (and satellite shots) of the area you're in quickly – useful if you're in an unfamiliar place – and to zoom in and out to get your bearings. You can also search for information on local business and services, and get navigation instructions. And, if you want to upgrade to GPS level accuracy, the phone can communicate with an optional standalone Bluetooth GPS receiver module.
Similar topics