AudioEngine AW1 wireless music system
Transmission impossible?
---
Review It's not often wireless music streaming comes as easily as AudioEngine's AW1 makes it. Open the box, plug the transmitter and receiver in, select a track and press play. Audio across the room in...oh, under a minute.
The AW1 pack comprises two almost identical units: the rocket-iconed transmitter and the planet-themed receiver. Geddit?!?! They're both shiny black lozenges about the size of a box of matches with a standard-sized USB port at one end on a 1cm lead.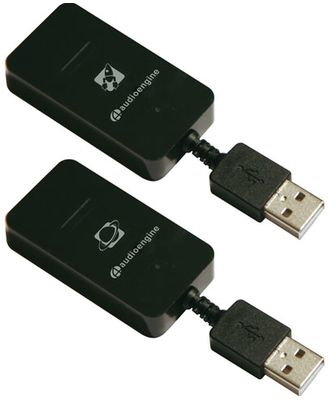 AudioEngine's AW1: wireless music, in an instant
AudioEngine also supplies a single, USB-ported AC adaptor and a trio of audio cables: two with a 3.5mm jack at either end, and a third that runs connects a 3.5mm jack to a pair of RCA stereo sockets. There's an instruction sheet too, but we figure that, being Register readers, you won't reach for that yet.
We plugged the transmitter into a MacBook Pro and selected it as the machine's sound output in Mac OS X's Sound System Preferences pane. You'd do much the same with a Windows box. We plugged the receiver into the AC adaptor and cabled it to a pair of Logitech powered speakers.
And, as we say, within 60 seconds of opening the box we had a variety of Bach cello concerti blasting out across the office, annoying more sensitively eared Vultures in the process.