This article is more than 1 year old
Western Digital uncages ferocious VelociRaptor data hunting drive
Clever girl...
Western Digital is today launching the first model of a new line of ultra-swift hard drives, which the company says is the fastest SATA HDD available.
The new VelociRaptor WD3000GLFS hard drive can store 300GB of data. Certainly not huge, but twice the space of the Raptor X model it will eventually replace. Obviously Western Digital is less concerned with capacity than it is about performance in the Raptor line. The hardware goes at PC gaming enthusiasts and professional workstation denizens itching for some seriously fleet-plattered storage.
Although VelociRaptor shares a (still impressive) 10,000 RPM spindle speed and 16MB cache with its predecessor, WD says the new drive bumps access times and data transfer rates by a healthy 35 per cent.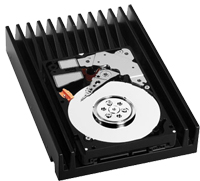 VelociRaptor is actually two 2.5-inch 150GB platters housed in a 3.5-inch "IcePack" mounting frame. The spacious chassis sports a built-in aluminum heat sink to help negate the need for additional cooling. It also doubles as a mounting adapter to fit the disks in a more traditional 3.5-inch internal slot size.
The VelociRaptor unit's speed magic comes via an average write seek time of 4.7 milliseconds and a read seek time of 4.2 milliseconds. The interface is 3Gb/s SATA, and has a mean time between failure at 1.4 million hours, in theory placing it at the top of the SATA heap in terms of reliability.
Other reliability features include Rotary Acceleration Feed Forward (RAFF) for vibration-prone environments and parking the recording heads off the disk surface during spin up, spin down, and when the drive is off.
The VelociRaptor family will replace the Raptor X gear over time.
VelociRaptor will ship on Alienware's ALX gaming desktop at the end of April. It will later be sold directly through Western Digital's website and through resellers in May for about $300. ®
Paleontological Bootnote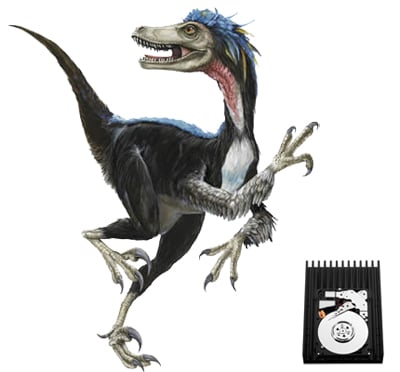 Because you were doubtlessly curious, here's a velociraptor dinosaur drawn roughly to scale with the VelociRaptor HDD. Now you'll more easily be able to spot the difference. Thank us later.