Atom-based Eee PC to hit UK in June
Why buy a 900 now?
---
Asus will release an Atom-based version of its Eee PC early in June, a number of company executives have said.
The company's recently launched second-generation Eee, the 900, uses the same Celeron processor as its predecessor, albeit running at a higher, 900MHz clock speed. It's believed Asus stuck with the Celeron partly for cost reasons but mostly to allow it to ship the Small, Cheap Computer™ ahead of a raft of Eee rivals all based on the new Intel CPU.
Intel formally unveiled Atom earlier this month. The version launched is codenamed 'Silverthorne', and was developed for handheld devices. A more laptop-centric version, codenamed 'Diamondville', is due in June.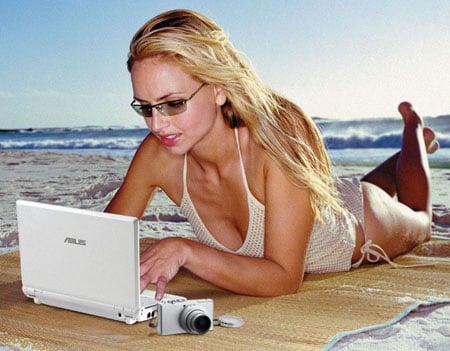 Asus Eee PC and friend: should she wait for Atom?
Asus executives said the Atom-based Eee should show a longer battery life, thanks to the new, more energy efficient CPU. It should experience a performance boost, thanks to Atoms ability to handle two processing threads simultaneously. The Celeron M can only process one.
The Atom-based Eee is expected to hit the UK by the end of June, an Asus spokeswoman said. That's just a couple of months after the arrival of the 900, which may now prove less popular as punters wait instead for the more advanced model.
Asus hasn't said anything else about the Atom-based Eee's other specifications, but it has said in the past it will offer an Eee with integrated 3G and/or WiMax. The new model has to be the most likely candidate for these enhancements.