DARPA looking at 'Z-Wing' stratocruiser
Solar wingship triad will dock together 17 miles up
---
Last week, news broke that the Pentagon had selected three design teams to contend for its "Vulture" project, in which enormous yet frail unmanned flying wings will cruise for years on end in the upper reaches of the atmosphere. Details of the plans are expected later this month, but some intriguing information has already leaked out.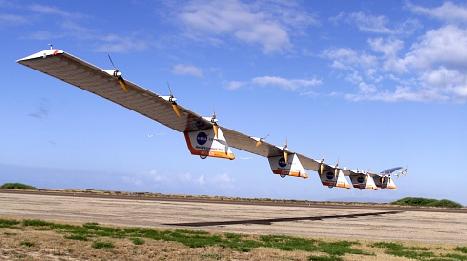 The ill-fated Helios. 'Odysseus' will take off in three sections.
In particular, Flight International reported yesterday on a talk with an engineer from Aurora Flight Sciences. Aurora's Vulture design is codenamed "Odysseus", no doubt alluding to the extremely lengthy voyages the craft is intended to make.
Rather splendidly, the Odysseus solar wingship will not be a single unit like NASA's ill-fated, jumbo jet sized Aerovironment Helios. Rather, its three sections will take off independently and dock themselves together at high altitude, forming an immense 150 metre unit.
The especially clever thing is that the sections will not be rigidly mated, but rather hinged - forming what Aurora calls a "Z-Wing". This is great, because it allows the sections of Odysseus to tilt in flight, thus gathering the maximum amount of solar energy from the Sun even when it is low on the horizon.
Without this ability, the Vulturecraft of the future would struggle to reap much solar energy whenever they were operating far from the equator in winter. The wingships must not only power themselves, but also provide juice for their payload systems, and must have enough poke to hold still against very fast upper-atmosphere winds; and they must do all this around the clock, whereas they can generate solar power only in daylight. As a result, every watt-minute of power is important, and thus Aurora believes the Z-wing configuration is necessary for success.
"The highest limit is the arctic at winter solstice," Aurora boffin Bob Parks told Flight. "The closer you try to get to that, the harder the problem is."
Odysseus will also use X-wing style tail units, able to roll so their solar panels are aligned to the Sun. At night, running on stored power, the Z-wing will flatten out for better aerodynamic efficiency.
The other two Vulture contenders are being put together by US aerospace behemoths Lockheed and Boeing. They haven't released details yet, but Aurora plans to give a full brief later this month.
The winner will be selected to build a small-scale working Vulture model, and if performance is good enough the project could go full-size. The idea is that Vulture wingships would be able to stay up over a given location for years on end, delivering the same kind of capability which can currently be achieved only by costly geosynchronous satellites.
The project is being run, of course, by DARPA (the Defence Advanced Research Projects Agency), the Pentagon boffinry bureau that just can't leave a military tech applecart alone.
Read all about it from Flight here. ®