Hitachi 35mm-thick LCD TV to come to Europe next month
Will it mean less packaging?
---
Retailer Comet has announced that it'll soon start selling a Hitachi super-thin LCD TV to European telly addicts.
The Wooo UT range will be available in 32in, 37in or 42in display sizes, but each model only measures 35mm from front to back – excluding the stand, of course. Hitachi has previously described the range as "thinner than an average remote control".
Comet's decision to stock the TV isn't a great surprise, because the firm's head of brown goods, Bill Moir, has already stated that flatscreen TVs account for 95 per cent of all Comet's TV sales.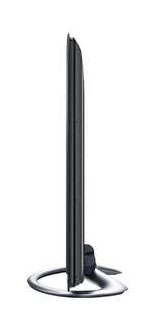 Hitachi's 35mm deep TV: due to hit Comet next month
The 37in and 42in models boast a 1920 x 1080 resolution, whilst the 32in model offers a lesser, 1366 x 768 resolution. Only one HDMI port is built into each model, which could prove limiting for HD content fans.
Hitachi announced the three TVs for Japan last week, but it's dropped the iVDR storage feature that'll be available with Japanese models – almost certainly because the format has never really taken off in the West. The Western models don't have integrated hard drives either.
Comet will let consumers get their hands on the super-thin TV next month, with the smallest 32in model costing £1300 (€1500/$2600).