This article is more than 1 year old
Hitachi reveals greenest data center dream
Gives planet an IOU for Earth Day
Hitachi Data Systems is celebrating Earth Day by announcing the most eco-friendly and power-efficient enterprise-class data center ever constructed — that is, ignoring the slight complication that it hasn't actually been constructed yet.
No, this year Mother Earth receives only a well-meaning promise from HDS, which intends to attach a new green wing onto Hitachi's massive data center in Yokohama, Japan by next year. Think of it as an Earth Day equivalent of giving your partner a hand-made coupon for the "world's best back rub" on their birthday.
HDS claims the new addition will reduce its carbon emissions by a good 20 per cent. For the life of us we can't figure how adding even more machinery will do that — but such are the lavish claims of most green IT announcements.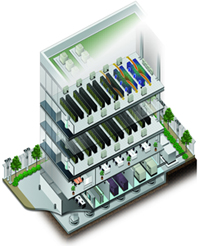 The expansion will add 10,782 square meters of data center floor to the center's current 387,459 square meters. Hitachi's Yokohama facility serves as the primary data center for the company, and is currently under the scrutiny of Hitachi's "CoolCenter50" project to reduce the power consumption of the Yokohama and mirrored Okayama facilities by 50 per cent in five years. The company is also running a corporate-wide campaign wonderfully titled, "Harmonious Green Plan" which plays into the eco-friendly push.
So how green will the data center expansion be? HDS is basing its claim on the data center's expected Power Usage Effectiveness (PUE) rating as established by The Green Grid organization. A PUE index rating is calculated by dividing the total power delivered to the data center by the power used by the equipment. That's purely a measure of machine efficiency, but since "greenness" itself is an abstraction, we won't get too touchy about the terminology here.
Hitachi says the expansion will be a Tier IV data center with a PUE rating of 1.6 or less. According to Hitachi CTO, Hu Yoshida, a PUE rating of 3 is fairly common for a tier IV plant, which he defines as requiring no more than 0.4 hours downtime annually and active-active dual power supplies on all critical equipment.
The expansion will focus on virtualization and thin provisioning software-side to reach the desired PUE, according to Yoshida. It will be built using Hitachi's own data center software and hardware to showcase the company's eco-prowress to current and potential customers.
How specifically HDS will implement thin provisioning and virtualization isn't currently clear, as that will depend on the applications that will actually be going into the facility, said Yoshida. At this stage, HDS is focused more on infrastructure design and placement.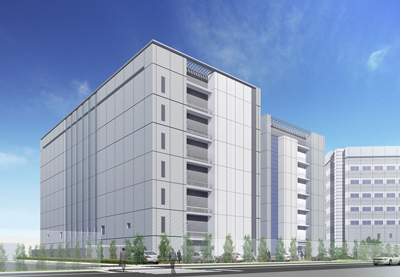 One year later...
The facility will utilize Earth-friendly tools such as water-cooled servers and racks, converters for direct current power supplies, and even a rooftop garden to help with nighttime cooling. They've also got a fancy 3-D thermal hydraulic simulator called AirAssist to optimize the hardware layout and cooling placement.
Hitachi's new data center is expected to be running by July 2009. More images of the addition's layout and design are available here. ®