Canon Digital Ixus 970 IS compact camera
Could be your dad's camera
---
Review How do you improve on an existing product? Well, you can change the colour, you can add new features... or you can do what Canon has done with the Ixus 970 and give it a radical new redesign.
The Ixus 970 isn't ugly, but it's not as good looking as previous Canon cameras we've seen. The left-hand side of the body has a straight edge while the right tapers to a smooth rounded curve. The top has a large shutter button and zoom rocker, but Canon has moved the power stud from the top and placed it at the back.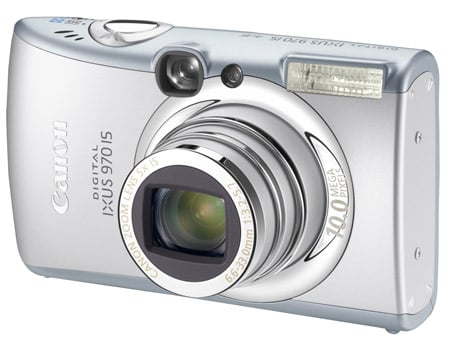 Canon's Ixus 970 IS: not as stylish as past compact Canons
The power key is a small white button that's recessed to prevent accidental activation. Press it - and you have to press it pretty darn hard - and it glows a pleasant green colour, and then the Ixus 970 springs into action. Also at the back is a bright 2.7in LCD screen with 230,000 pixels which Canon has complemented with a tiny optical viewfinder.
The rear is also home to a selector switch for the various camera modes; a four-way rocker control with a central function-set button; plus buttons for playback, printing, display mode and menu. Around the rocker control is a ring which, when moved, enables you to select various features from an on-screen set of graphics which changes according to the camera mode you're in.
It's all neat and functional. The mini USB jack for transferring images is hidden behind a plastic flap on the side, and at the bottom there's a spring-loaded flap for the battery and SD/SDHC cards.