This article is more than 1 year old
Futurist's music widget goes titsup 2.0
Didn't see that coming...
Music's best-known "futurist" has admitted his latest business idea has flopped and the service will close. Gerd Leonard of "Music 2.0" fame, who popularised the phrase "music flows like water", has discovered that on the internet, revenue flows like set cement.
His company Sonific, which allows bloggers to embed a widget that plays music, will suspend its service on May 1. The founder blamed "lack of solid revenue modelling" (Translation 2.0: no income).
As a regular keynote speaker, Gerd has been telling the music business what it em>should do for years [2005 interview here], although his focus has more recently switched to telling the TV business what it should do. So we can hear a fair amount of under-the-desk chuckling at Sonific's hiccup around the music business this evening. But this would be unfair to a generous and big-hearted guy, because Sonific's failure should be measured against recent "successes".
Sonific's concept was a lovely idea, nicely implemented - and best of all, it was completely legal. And that probably sealed its fate.
"It seems that the industry's major stakeholders still prefer this turf to remain unlicensed rather than to allow real-life, workable and market-based solutions to emerge by working with new companies such as Sonific. This is not the way forward," wrote Gerd on the Sonific.com site.
By contrast, unlicensed services that don't respect copyright and then sell out have prospered: Last.fm and YouTube, for example. Would YouTube have got to be the world's greatest music video jukebox if it had sat down and negotiated to clear all the rights first?
For their part, rights owners want to see some revenue before they license. And there the impasse remains.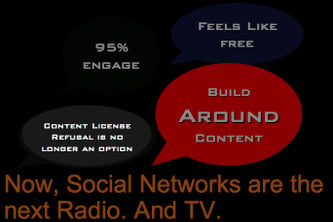 Content license refusal is an option - and can damage your business
Unfortunately, Sonific is also a victim of the internet's abundance of stuff. Despite all the (ahem) blather about "The Attention Economy" and "Post-scarcity economics", attention doesn't equal revenue, and the lack of scarcity makes monetizing an audience next to impossible. Not only are social networks not the next radio, social networks aren't even the next social networks.
What we're really dealing with is a telephone network with pictures and music, and in such a medium, the punter will pay a small monthly amount to the telephone company (with pictures and music), and no more to anyone else.
We could have told you that - and we're no futurists.®