Review Take a look at the specifications of the new Samsung M110 and you could be forgiven for thinking that you were looking at the details for a handset made a decade ago rather than something fresh off the drawing board.
For all concerned, playing tunes and taking great snaps is absolutely not what the M110 is about. The clue is in the name, Solid. And the features reflect this: it sports a 1.5in, 128 x 128 CSTN screen, dual-band GSM/GPRS, a 0.3-megapixel camera and no music player.
Still, modernity hasn't been altogether run out of town: you do get Bluetooth, an FM radio and 2MB of on-board memory.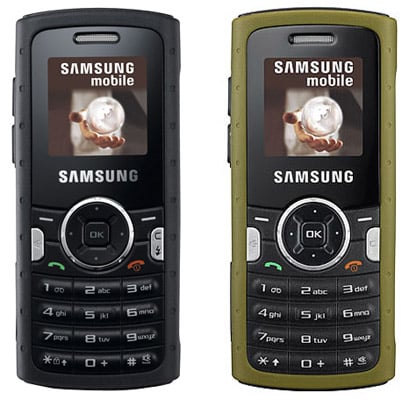 Samsung M110: available in 'take-a-beating black' and 'grueling green'
Built to something called Global Certification IEC 60529, the M110 is designed to be seriously dust- and water-resistant. Hence the GI Joe rubber casing, one piece keypad, rubber bungs over the power and headphones sockets, and lockable battery cover.
In the hand, the 109 x 48 x 18mm, 95g M110 does indeed feel solid and tough. The rubber coating feels durable and provides genuine impact absorbency judging by our test drops from a second story window. We were impressed that the battery cover stayed in place during this needless abuse highly scientific test.
All that matt rubberised plastic - or plasticised rubber - means the M110 can start to look a bit scruffy after a few days of hard use and it doesn't really 'polish up' too well. It also seems to attract fluff, lint and other microscopic 'curiosities', so if you're looking for a handset that keeps it's box-fresh aesthetics, this probably isn't the phone for you.
We are happy to be able to report that the M110 is most certainly more than splash-proof. One of our staff dropped it mid-conversation into a 2in-deep puddle during a downpour of near Biblical proportion. He didn't even lose the call.