Basic navigation about the M110's keypad and menus will be familiar to anyone who has used a mid- or entry-level Samsung recently. It all works smoothly and intuitively enough, while the toughening-up process hasn't got in the way of keyboard usability.
The small, low-resolution screen is nothing much to look at, but it's clear and bright and only lets the side down when you need to scroll about a bit to read a long text. If your incoming missives tend not to be longer than "where r u?" this isn't much of an issue.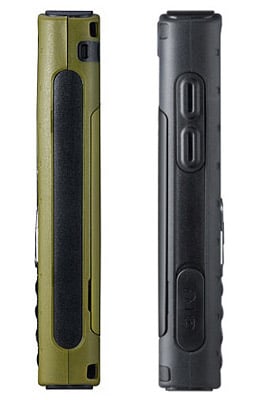 The rubber coating provides genuine impact absorbency
Action Man-esque functions include the ability to use the LED flash as a torch by holding the cancel button down, and to dial a pre-set SOS number by hitting the volume key three times. The M110 also includes a voice memo facility so you can leave a record of your last thoughts for posterity should you find yourself in a particularly grim situation.
On a more positive note, call quality proved to be excellent and the speaker was both loud and clear - helpful if you need to hear things like "You might wanna find a hard hat," over the sound of drills, diggers and dynamite.
Some may criticise Samsung for so ruthlessly shearing the M110 of peripheral functionality, but that would be to miss the point. To start with, more functions would equal a higher price and in the real world 'high price' and 'tough' are mutually exclusive. After all, who knowingly risks a high-cost item in a high-risk environment?
And let's not forget that every extra function has an impact on battery life and so makes the user more reliant on external power. A almost indestructible phone is no use if, when you extract it in an extreme situation the battery's as flat as a boulder-rolled mountaineer.