The rough outdoors is, of course, why the M110 has a CSTN screen, which is both cheaper to make and more power efficient to use than an equivalent-sized TFT screen.
Samsung isn't aiming the M110 at Sunday afternoon hikers in the Cotswolds, or summer holiday campers. Those people just need to buy a decent case for their N95s. No, the M110 is aimed at those who have to use their phones in tough environments. People like builders, farmers, nautical coves or, indeed, anyone who needs to make calls outside in the winter when it's cold, wet and miserable. All that these hardy, salt-of-the-earth types need is a basic handset than can make calls, read and send texts and has a Methuselah-like battery life.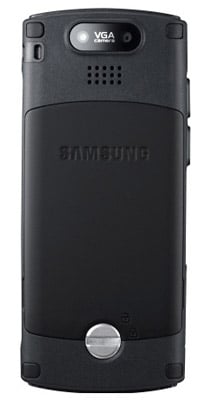 The back features a modest VGA (640 x 480) camera
To that end, the M110's battery life is outstanding. Samsung quotes a talk time of up to eight hours and up to 400 hours - 16 and a bit days - on standby. Now we only had our test handset for eight days, but after an initial charge we used it regularly every day and never switched it off and still had what looked like half a charge left when we sent it back.
Before we did, we took the M110 across the road from Register Towers to a building site to get the opinion of some lads who may actually want a device like this. Reaction was overwhelmingly positive. The most prized features seemingly being the ability to withstand a long drop, easy usage with chip-greasy fingers, reasonable cost and monumental battery life. Apparently the rather basic camera and screen would be quite sufficient for taking pics of one's "bird" to then show to one's mates.
Verdict
We applaud Samsung for it's ruthless, no-compromise back-to-basics thinking with the M110. It's as tough as old boots, has a battery that lasts longer than an English winter and can be had for less than £50 pay-as-you-go. It may lack that last degree of Armageddon proofing that JCB has given its Toughphone, but at a quarter of the price and with twice the battery life you can't complain.

Samsung M110 Solid rugged phone
Tough, cheap and it knows what it's been put on this Earth to do.
Price:
Free on contract. PAYG: £50. SIM-free £90 RRP