Honda android to conduct symphony orchestra
Foo Bah-Bah-Bah-Baaah!
---
Detroit Symphony Orchestra conductor Thomas Wilkins could be getting worried, because the US classical music ensemble has orchestrated plans to replace him - temporarily at least - with a Honda robot.
Next month, the car manufacturer's Asimo - which stands for Advanced Step in Innovative Mobility, apparently - will conduct the DSO for a special performance, which also includes a performance by the famous cellist Yo-Yo Ma.
The event's designed to show off Asimo's "unique capabilities" - according to Honda - for keeping the orchestra in time and… er… waving a white stick. The robot's repertoire isn't yet known.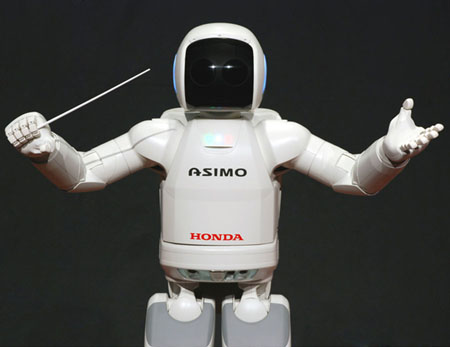 Asimo is to conduct an orchestra, if the batteries hold out
But if the orchestra finds the droid isn't up to the task, they have a quick go themselves, courtesy of a promotional Wii videogame that lets users conduct an orchestra with the console's Remote.
If the orchestra needs a hand getting home after the performance then Honda could also lend each member one of the new walking machines it has just invented. Hopefully, Asimo won't need one too - unless its batteries match the duration of the average Bruckner symphony.
The performance takes place on 13 May in the US and more information about it is available here.
Similar topics
Broader topics