IBM's SVC unit will get thin provisioning
Capacity diet planned but not specified
---
IBM, we've learned, intends to add thin provisioning capabilities to its SAN Volume Controller (SVC), a long-overdue feature for some of Big Blue's virtualized arrays.
The news arrives from the business blog of IBM's Barry Whyte, retorting a cranky blog entry of EMC's Barry Burke — who in turn was lashing out against various takes on EMC's quarterly earnings report. Somewhere in Brazil, a butterfly snickers as it flaps its wings.
Anyway, IBM has coined its own special name for thin provisioning just like its virtual array rival, EMC. The latter calls its flavor of the technology "virtual provisioning," because — frankly, nowadays "virtual" is the enterprise IT equivalent of prefixing a lowercase "i" to the name of a consumer gadget. IBM has dubbed its thin provisioning technology "Space Efficient Volumes/Vdisks," or SEV. Don't let either confuse you too much, as they're both describing the same thing.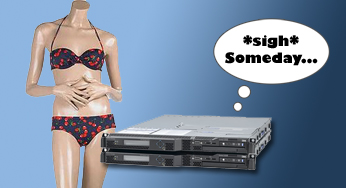 In virtualization country, the traditional method of allocating storage is dedicating large portions of disk to applications even if a good chunk of it goes unused. To get around this, some companies have turned to thin provisioning, which makes it so the physical disk capacity is used only when needed for virtual volumes. The benefits of the technique being more capacity available and power savings through less disks spinning.
We rang up IBM this morning and were told that while Whyte's blog comments on SVC thin provisioning were accurate, but no further details were available. That said, it would seem you can expect that feature to be hitting IBM's virtualizing appliance in a not-too-distant future. ®