Iomega pitches paperback-sized media playback HDD
Pages of storage
---
Iomega has launched an HD version of its ScreenPlay multimedia storage unit, boasting enough capacity for your entire DVD collection.
The company claimed the 500GB monster holds around 2m photos, over 9000 hours of music or up to 750 hours of video – which is a lot of time spent watching the telly.
ScreenPlay HD supports 480i, 480p, 720p and 1080i resolutions, although the two best quality video settings are achieved through upscailing. The unit connects to a display through component- and composite-video, Scart and HDMI, but a cable for the latter's not included.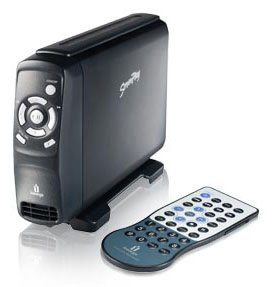 Iomega's ScreenPlay HD: 500GB capacity and 1080i HD support
Data can be transferred onto the 3.5in, 7200rpm hard drive over USB, for which a cable is included. A whole host of file formats are supported, including MP3 and AC3 audio, MPEG 4 video and JPEG still images.
If you've got a bookshelf near your telly then you could store the ScreenPlay HD on it, because Iomega claims the unit measures about the same as a paperback book.
Iomega's ScreenPlay HD will be available in Europe during May for €180 (£144/$285).