LaCie's rugged rubber drive hits 500GB
Rubber baby hard drive bumper
---
Rubber hard disk fetishist LaCie has upped the capacity of its ruggedly designed portable drive to half a terabyte capacity.
Quite resembling an orange inflatable raft, the unit now packs a 500GB Hitachi Travelstar 2.5-inch drive into the Neil Poulton-designed chassis.
The LaCie Rugged features a scratch-resistant aluminum shell with a shock-resistant rubber bumper — so you can store data as well as wield a blunt weapon without the inconvenience of switching hands.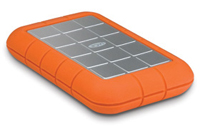 Break your backs and crack your oars, men
Like the rest of the Rugged line, the drive comes with either a USB 2.0 interface or a unit with FireWire 400, FireWire 800 and USB 2.0 interfaces. They're also bus-powered, so there's no need to haul around a power supply.
The price of the unit depends on whether it's purchased directly or through one of the company's channels. LaCie explained to us that gives its retailers a bit of a discount to appease them.
The USB 2.0-only unit goes for $300 (£150) or $340 from its online shop. The FireWire/USB 2.0 unit sells for $350 (£203) or $400 directly. ®