Plate armour to protect PS3
Not bullet-proof
---
Defending yourself from virtual bullets in Metal Gear Solid 4 will be hard enough, but keeping your PlayStation 3 free from everyday scrapes is another matter. Thankfully, Amazon's now selling console armour to do just that.
The breastplate-like cover is punched out from aluminium and clips onto the console's curved face. A section's cut out so that the PlayStation 3 logo is still visible, you know, just in case the armour makes you mistake the gaming unit for a tank.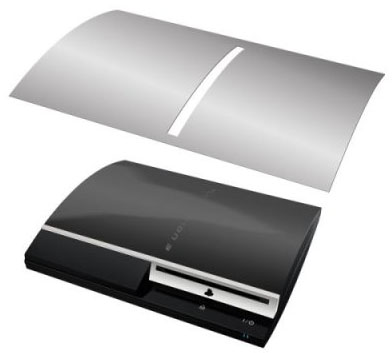 Playstation 3 Hardwear Console Armor: maximum console protection?
A "soft silky texture" runs across the underside of the armour to prevent it from scratching the PS3, whilst also keeping dust and grime away from your beloved unit.
If you're looking for maximum PS3 protection though, then a smaller breastplate is also available to protect the console's controller.
The Playstation 3 Hardwear Console Armor is available now online for $20 (£10/€13), while the Playstation 3 Hardwear Controller Armor costs $10 (£5/€7).