Sony Bluetooth Walkman NWZ-A826K
Better late than never?
---
Review Available in three flavours - 4, 8 and 16GB - the pithily named NWZ-A826K is Sony's latest post-ATRAC assault on the MP3 player market, an attack launched once again under the now rather faded Walkman banner.
One can only imagine the gnashing of teeth that goes on at Sony when anyone mentions that in the 1990s we all had a Walkman, but now we all seem to have iPods.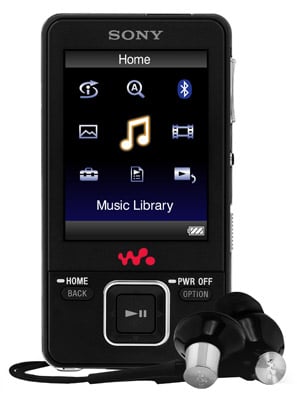 Sony's Walkman NWZ-A826K: a handsome little devil
The reasons for the decline are many, but pride of place probably goes to Sony's unhealthy attachment to its proprietary ATRAC music format and SonicStage media management software. Thankfully, Sony has now shaken off the dead weight of both and if this is a case of closing the stable door after the horse has bolted, it's also worth considering that it's better late than never.
Still, the new A82 series players are nothing if not handsome little devils and at an eminently pocketable 50.2 x 93.6 x 9.3mm and 65g they sit comfortably alongside their major leading brand competitors, the squat third-gen iPod Nano and the touch-screen Samsung P2. Indeed, in terms of screen size the Walkman sits right between these two, its 2.4in, 240 x 320 screen being a touch larger than the Nano's, but a touch smaller than the P2's.
The Walkman's controls are simple. On the front a navigation pad lets you scroll around the nine-icon main menu, the centre button either taking you into the selected menu or starting/pausing playback. To the left is a Back key that, if held down, also takes you straight to the main menu. To the right is an Option key that, if held down, switches the player on and off.
On the right-hand side of the player is the volume control; a small rubber button that allows you to turn the Bluetooth on and off without recourse to the main menu; and a Hold slider. At the bottom of the unit is a 3.5mm headphone jack and a bespoke USB port.
Similar topics
Narrower topics