On the upside, the Bluetooth headphones come with a built in microphone, which is useless in the Walkman context but handy if you want to use them as a hands free headset with your phone, a function they performed admirably well when paired with a Sony Ericsson K660i we had kicking about.
The player's battery life was impressive. We got 31 hours out of it, a tad shy of the 36 Sony claims, but nothing worth taking legal action over. The Bluetooth phones died after seven hours constant use, but that didn't seem unreasonable. The Bluetooth headphones can be re-charged using a supplied power adapter while the player itself can only be charged with a USB cable.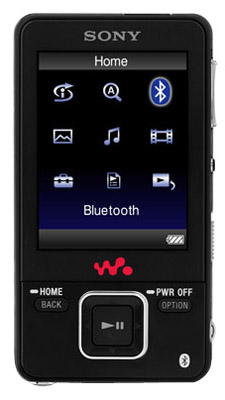 Mastering the menu system only takes a few seconds
Being a Sony, the A826K isn't what you'd call cheap, coming in at around the £170 mark. In 4GB form that price drops to around £140, in 16GB form it rockets up to a rather dizzying £280. So, considerably more than an iPod Nano or Samsung P2, both of which in 8GB form will set you back around the £130 mark and both of which are likely to appeal to the sort of brand-conscious purchaser that Sony has in mind.
Of course Apple's Nano doesn't come with Bluetooth and while the Samsung does, you still have to buy a decent set of Bluetooth cans and those will probably set you back a touch more than the £40 price difference between the two devices. Add the very high quality wired earphones that Sony also bundle into the deal and a sound quality that bests anything an iPod can deliver and also just shades the Samsung and we'd say Sony are not being all that greedy on the hardware front with the 4 and 8GB models.
At the moment there is no such thing as a 16GB P2 or Nano, so it's a case of pay up or shut up on the 16GB front. A word of warning, though, some retailers are selling the A82 series without the Bluetooth phones bundled. If you see a great price, just make sure you know what you're getting.
Verdict
The longer we live with the Walkman the more we are driven to an strange conclusion. Yes, the Walkman is good, very good in fact, but like the Samsung P2, which is also very good, it is just not as flat out cool, neat, funky - use whatever you word you want - to own and use as an iPod. This test has underlined to us once again just what a curiously but desperately possessable gadget the iPod, any iPod, is. Buy the Walkman and you will come to like it and respect it enormously, but you won't ever come to love it as some people, including us, love their iPods.
Sony Bluetooth Walkman NWZ-A826K
Excellent sound and fine accessories make this the MP3 player Sony should have released a few years ago if they wanted to keep Steve Jobs awake at night.
Price:
£139 (4GB) £169 (8GB) £280 (16GB) RRP