Asus Eee PC 900 Linux Edition
Bigger screen, bigger disk... but bigger price
As per the 701, the 900's screen hinges have plenty of friction to keep the display where you leave it, even if you pick it up by the screen. But while it's easy to close the 900 one-handed, it's impossible to open the machine the same way.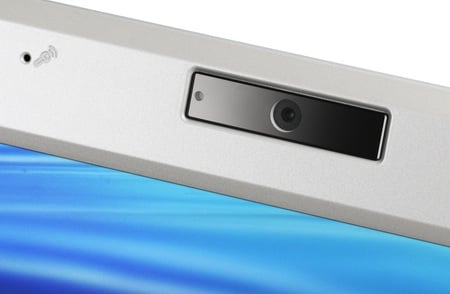 The webcam's upgraded to 1.3Mp
The 900's widescreen display sits beneath a 1.3-megapixel webcam. Nearby is the microphone, as before. Indeed, the 900's externals match its predecessor almost exactly. The design's identical, with the same VGA and two USB 2.0 ports, and SDHC card slot on the right-hand side. The left looks the same too, with one exception: the 701's modem port, which was never connected to the motherboard, is gone. But the 10/100Mb/s Ethernet, third USB 2.0 port, and audio sockets are present as before.
The front of the machine is home to the same On, Battery, Disk Activity and Wi-Fi LEDs as the 701 sported. But the touchpad, its buttons and the keyboard are larger this time round.
The 900 is barely bigger than the 701, despite the larger display, but it feels more chunky. The 900's about 7mm longer front-to-back than the 701, but the other dimensions match. However, the 900 is less svelte - the two machines match at the edges, but where the 701's case slopes, the 900 bulges. Still, there's not much to choose, weight-wise: a smidgeon over 900g for the 701 and 1kg for the 900, according to our kitchen scales.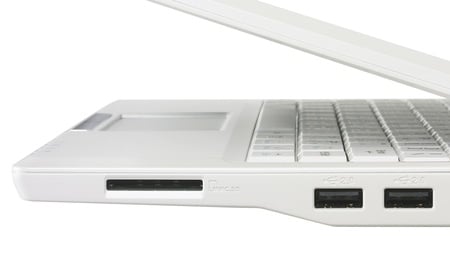 Same ports as the 701
The keyboard remains as cramped as ever, even though it's fractionally larger than the 701 version. It's well suited to the youngsters the Eee family is really aimed at, and while it's usable if you have large, adult fingers, typing is never entirely comfortable. But that's a trade-off you make with any machine as small as the Eee, and it's stil a nicer keyboard to use that some of the spongy ones fitted to more expensive, executive-oriented sub-notebooks like the Toshiba Portégé R500 - reviewed here.