Asus Eee PC 900 Linux Edition
Bigger screen, bigger disk... but bigger price
The 900's keys have good movement and there's a solid foundation beneath them so the keyboard doesn't bend in the middle the way it does on so many laptops these days. Extra marks to Asus for this.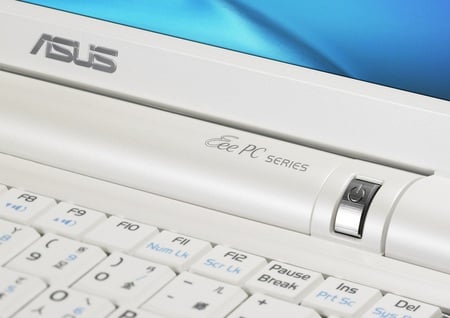 The keyboard's larger but just as good
They 900's keyboard may be no larger than the one on the 701, but its touchpad is. And it's now equipped with MacBook Air-style gesture input too. The size - 63 x 36mm to the 701's 45 x 30mm - is the crucial improvement: we found we were no longer constantly reaching for a mouse as we did with the 701. The implementation of two-finger scrolling is very welcome - it's much more practical than the scroll area on the 701's touchpad.
The other gesture uses two fingers brought together or moved apart to zoom in and out of images. It only works with a few apps, such as Adobe Reader and Image Viewer, and it's not very successful. In Image Viewer, magnification goes through large, fixed steps, so lacks precision - you may as well use the regular Magnifying Glass tool. We did - it was quicker.
It was no better in Adobe Reader. The zooming process works, but it's slow and jerky. Again, you're better off using the app's regular magnification tools.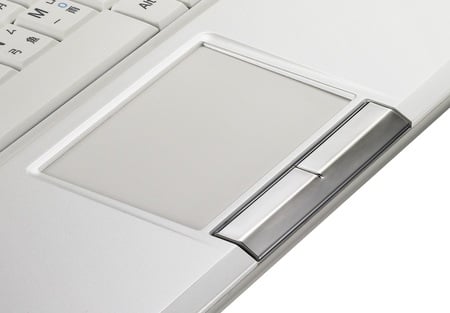 At last, a bigger toucpad
Inside the 900, we now have 1GB of DDR 2 memory fitted rather than 512MB, but it's the same Intel Celeron M CPU as the 701. This time round, it's clocked to 900MHz rather than 630MHz, but Intel's SpeedStep technology means these are just maxima: the clock speed will fall to meet the needs of the CPU's workload at any given time, to help conserve battery power.
The 701's CPU is more than ready for most tasks a machine of this size will be put to, handling even processor-intensive tasks like H.264 video decoding with aplomb. So is the 900. Tax the CPU and the fan will kick in, but less so than we've seen on other UMPCs and sub-notebooks, like the Belinea s.book - reviewed here. The fan's not silent, but we didn't find it intrusive.