American Predator and Reaper unmanned flying hunter-killer robots will soon be equipped to track and listen in on mobile phones. The move is sure to be greeted with fear among tinfoil-clad bunker residents, but could also lead to calls for a no-nonsense enforcement campaign against noisy cellphone users in public places.
Northrop Grumman was pleased to announce last week that it had won a $54.9m contract from the US Air Force to fit the so-called Airborne Signals Intelligence Payload (ASIP) aboard the MQ-1 Predator and MQ-9 Reaper aerial wardroids. A version of ASIP already flies aboard the U-2 long range high-altitude spy plane, and aboard the similarly large high-flying Global Hawk surveillance drone.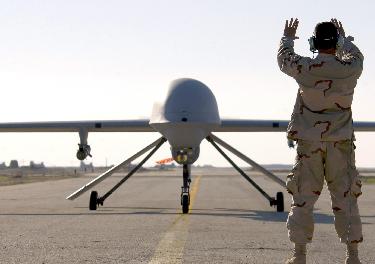 Having cornered its rebellious fleshy slave, the Predator showed no mercy.
"With this award, we will deliver a new capability," said Imad Bitar, Northrop electro-spying chief. "We see significant savings and risk reduction when common sensor capabilities are fielded on different operational platforms."
"ASIP will deliver enhanced intelligence collection and exploitation capabilities in support of Predator's tactical warfighting role, sometimes described as a hunter/killer/scout mission," adds the company statement. "The system will allow Predator to rapidly employ this critical information in support of the Global War on Terrorism."
ASIP can listen in on various types of signal, but in modern warfare the most commonly used capability is that of picking up cell and satellite phone calls made by enemies of America in the Wars on Stuff. The smaller Predator version will test fly next year and reach field service in 2010; there was no timetable for the larger and presumably more capable Reaper variant.
Armed Predators have previously made use of cellphone intel to deliver lethal strikes, most famously above Yemen in 2002 under CIA control. On that occasion, a Predator killed al-Qaeda bigwig Qa'ed Sunyan al-Harethi by blowing up his car with a Hellfire laser-guided missile after US special-ops "knob-turners" - according to this account - remotely programmed al-Harethi's phone to switch itself on and so reveal his location. However, in that case the Predator probably acted merely as weapons carrier, rather than carrying out the signals-intelligence itself.
Predators and Reapers already mount a fearsome set of sensors and weaponry, and are able to pick out individual people at night and through cloud before strafing them with Hellfires or smartbombs.
The Northrop release can be read here and a report from Flight International here. ®