Review Lenovo claims that its ThinkCentre A61e laptop-as-desktop PC is the greenest ThinkCentre ever, thanks to the low power requirements of the AMD Athlon 64 X2 BE-2350 processor it uses. Does that claim have any merit?
The A61e is a tiny machine that measures 275 x 242 x 81mm and weighs in at 3.72kg, although the figures are helped by Lenovo's use of a hefty external power brick that has a rating of 130W. Our testing suggests Lenovo could have reduced the size and rating of the power supply by a considerable amount, but more on that later.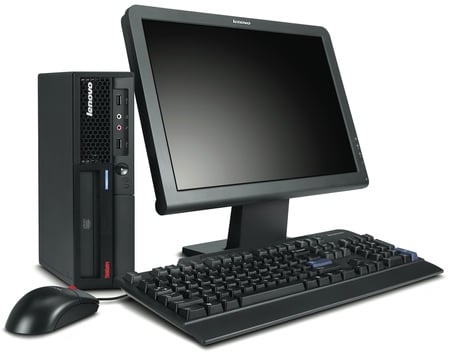 Lenovo's A61e: compact
Flip a single latch and the case hinges open to reveal the inner workings, although there's not a huge amount to grab your attention. The Lenovo Buckeye motherboard is sized somewhere between Micro-ATX and Mini-ITX, and uses a hotchpotch of technologies that are mainly derived from the desktop.
The 2.10GHz dual-core processor and AMD 690 chipset are regular desktop components, but the single 512MB module of PC2-5300 memory that runs at 600MHz is a laptop component, presumably to save space inside the tiny case. The expansion options on the board are non-existent and there is no possibility that you can install a graphics card or sound card. Yet for some reason Lenovo has specified desktop-sized optical and hard drives. Although they use slender SATA connections, these components are strange choices that take up more space than the equivalent laptop parts yet they have very low specifications. The hard drive is an 80GB Western Digital unit that retails for £30 and the CD-RW/DVD-Rom combo drive sells for less than £15. Lenovo could have specified a 250GB drive and a DVD writer for a barely any extra cost.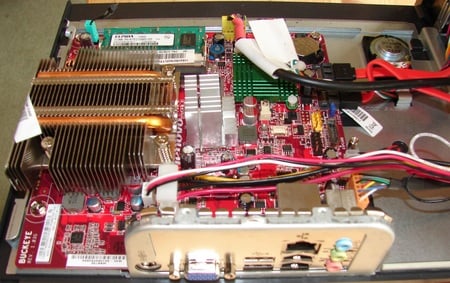 Lenovo's Buckeye mobo
One area of good news is that the Athlon 64 X2 BE-2350 uses so little power that Lenovo has been able to employ a small, passive cooler, so the only moving part inside the case is the platter in the hard drive and the optical unit's innards.