BAE lands US Army minidroid horde contract
It's not who you know, it's who you buy
---
Global military contractor BAE Systems has announced that it will lead a large alliance of American academics in building an army of miniature robots to aid the US military. The effort, known as Micro Autonomous Systems and Technology (MAST), will receive $38m of US Army funding.
"Robotic platforms extend the warfighter's senses and reach, providing operational capabilities that would otherwise be costly, impossible, or deadly to achieve," said Dr. Joseph Mait, MAST supremo at the US Army Research Lab.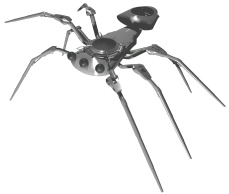 The horde of robots scraped the pork barrel clean
The idea is that a variety of crawling or flying mini-droids will be produced, able to go into situations where human troops might fear to tread - caves, bunkers, mountains, hostile urban areas etc. The robo-bug army would then spy out targets and intel for human commanders to act upon.
Under MAST various enabling technologies will be advanced: "small-scale aeromechanics and ambulation; propulsion; sensing, processing and communications; navigation and control; microdevices ..." and so forth, according to BAE.
"The technologies that will be developed under MAST represent capabilities and techniques that will influence nearly all of the products that BAE Systems will develop and produce in the future," added Steve Scalera, MAST manager for BAE Systems.
That would seem to be a controversial statement if Scalera was talking about the worldwide parent company BAE Systems, originally based on the UK's nationalised aviation industry as British Aerospace. But in fact it will not be British engineers who develop MAST; rather, this work will be done by some of BAE's US workforce, which has burgeoned as the firm's UK payroll has shrunk.
In 2000, BAE used some of the money it had made in Britain and Saudi Arabia to buy up Lockheed Martin's electronics and infosystems businesses in North America for $1.3bn. It is these companies which will do the MAST work in cooperation with a raft of top US universities; but export of such technology throughout BAE would be strictly forbidden. There is supposed to be an internal company "firewall" which prevents valuable US military tech from moving overseas.
That firewall may soon be bypassed in the case of products which will only be used by the UK military, under the terms of a planned treaty, but anything which might get sold on to other parties ought to be subject to normal US export controls. Since a lot of BAE products are marketed outside the UK and US, this should mean that little of the MAST technology can be used by the parent company.
Still, perhaps Scalera was referring to BAE Systems North America, now a major US arms player - which might in the not-too-distant future be the real parent company anyway.®