Review The planet's warming up, and we want to do something about it. Yet we still can't stop using our power-gobbling gadgets. What's the best way to minimise this paradox? Ask Nokia, and it'll tell you to try its "environmentally-friendly" 3110 Evolve.
Nokia has taken the basic design of its 3110 Classic and added a few greener elements to the package. These include unpainted bio-covers made from over 50 per cent recyclable materials, a new energy efficient charger and packaging that's made of 60 per cent recycled material.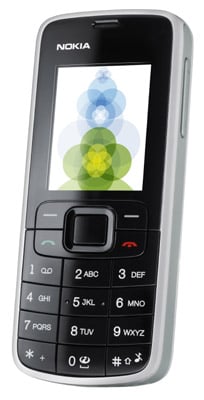 Nokia 3110: limited set of mid-range features
Obviously, anyone hoping for a bio-degradable handset and carbon-neutral production process will probably be disappointed. But at least Nokia's acknowledging the need for environmental sustainability.
That said, it's a shame that Nokia hasn't introduced the eco message using one of its more headline-grabbing mobiles, such as the N95 8GB. The 3110 Evolve isn't a particularly exciting handset and sports a limited set of mid-range features, including a basic, 1.3-megapixel camera and a disappointing low-resolution display. There's no 3G capability. Anyone seeking for a green-equals-austerity stereotype need look no further.
The 3110 Evolve's feature run-down is not bare-bones, however. You get a multi-format music player and FM radio; support for hot-swappable Micro SD expansion; and there's a Nokia web browser as well as Opera Mini, and several web-based applications, including WidSets and Yahoo! Go.
And for extra eco-cuddliness, Nokia has included links for the WWF - think wildlife rather than wrestling - within its browser bookmarks.
You may be uninspired by the drab grey side and back panels that offset the glossy black face of the phone, but these are some of the more eco-worthy bits of the device. The covers are made from over 50 per cent renewable organic unpainted material, which apparently reduces the carbon footprint incurred by its manufacture. Still, they do look dull.