The front has big enough numberpad keys to keep larger-pawed users happy, and a standard Nokia nav control and soft-menu keys. It has average candybar proportions - 108.5 x 45.7 x 15.6mm - and at 87g feels comfortable enough in the hand and pocket.
The 3110 Evolve is based on the standard Nokia S40 user interface familiar to Nokia phone fans. The display is disappointing: it can show 262,000 colours, but it's just 1.8in in size and has a weeny 128 x 160 resolution. It's the same days the one on the 3110 Classic, so it's not this size to conserve power.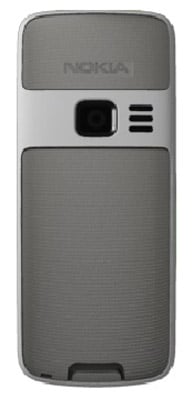 The recyclable, organic unpainted covers look a little dull
The interface presentation is consequently not as visually smooth as it is on other S40 phones with larger screens. The usual Active Standby screen option is available, pulling up notes, calendar reminders, music and radio status, plus handy icon-based shortcuts on the top of the screens. You can switch it off and rely on soft-menu key and nav-pad shortcuts, if you want less clutter on the display.
There's no dedicated camera button - you access it through the shortcuts - but that's only to be expected, as Nokia hasn't exactly gone to town on this model's shooter. It hasn't been upgraded since the 3110 Classic: it's an entry-level 1.3-megapixel camera, which is low quality by 2008 standards. You'd expect at least a two-megapixel snapper on a phone that's selling for £149 SIM-free.
There's no flash or photo light, so low-light shooting will give you poor, grainy results. You'll notice the lack of detail too if you try print pictures at normal photo size, and there's no autofocus or macro mode for sharp close-up shots.
The processing time once you've pressed capture is long. The phone has a standard S40 set of settings adjustment controls and basic editing tools, but realistically you shouldn't expect too much from it. Video isn't anything to write home about either, shooting at a mediocre 176 x 144 pixels top resolution at 15 frames per second.