Review While it's clear that Blu-ray Disc is going to rule the HD roost, unfortunately for Sony, the rival HD DVD format will take some time to wither away. Which leaves the buying public in a tricky position.
The smart money is on combo drives such as the LG GGC-H20L, which can read both Blu-ray and HD DVD formats for a price just under £100.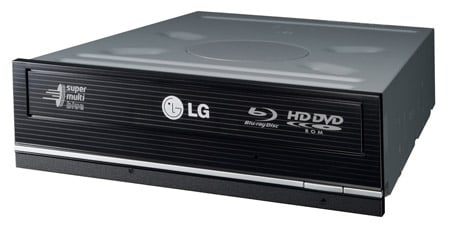 LG's GGW-H20L: reads and writes Blu-ray Discs
Stick one of those in your media centre and you can play any movie on the market, but we can go one better than that. The LG GGW-H20L has the same features as the GGC-H20L but can also write to BD media. It costs £149, which compares very favourably to the old LG H10N drive that cost £459 18 months ago.
The key writing speeds are 6x for single-layer BD-R and 2x for single-layer rewriteable BD-RE which isn't a great deal faster than the 4x BD-R LG GBW-H10N that we reviewed all the way back in December 2006.
The new Blu-ray writer has a 1.5Gb/s SATA interface rather than the IDE interface on the older drive, but the data buffer remains the same, at 4MB. Cosmetically, the styling of this black internal drive is very smart – and no, the styling of optical drives is not an oxymoron. However, there is an annoyance: there's a raised silver ridge that runs across the width of the drive and the eject button is set in that ridge.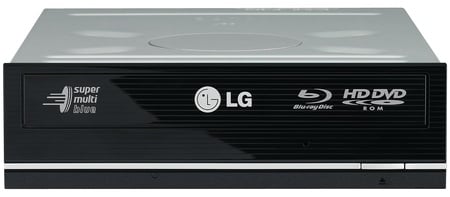 Annoyingly placed eject button
You can see the button clearly in the photo but it's quite tricky to find it by feel especially when the disc tray is open. Life would be simpler if the button was located to one side.
Similar topics