Holes in London Mayor websites leave them open to 'e-gaffes'
New levels of XSS for Boris'n'Ken
---
Ethical hackers have discovered potentially serious vulnerabilities on the websites of the two principal candidates in today's London Mayoral election.
Both Boris Johnson's and Ken Livingstone's campaign websites suffer from 'cross-scripting' (XSS) vulnerabilities that make it possible for hackers to redirect users to their opponents' websites, or any other site on the web, penetration testing firm SecureTest warns.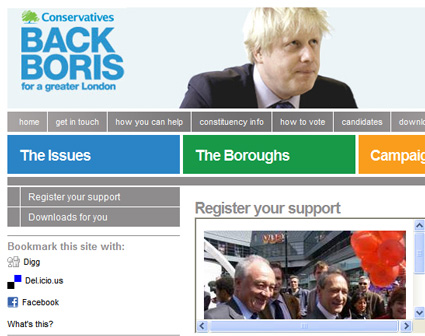 An unexpected endorsement
For example, it is simple to have a picture of Boris appear on Ken's web site or vice versa, as can be seen by following from this Ken shot on Boris's site link here. The cross-site scripting vulnerabilities on Boris and Ken's sites are exploited using a simple redirect. In the case of Boris's site, this is in the search function.
Ken Munro, managing director of SecureTest, explained that the picture prank does not involve hacking either site as such. "It just involves sending somebody a link that pulls content off a third-party site as if it came from the first site, which shouldn't be allowed to happen," he told El Reg.
SecureTest's team of ethical penetration testers found these weaknesses after reading reports of similar vulnerabilities on Hillary Clinton and Barrack Obama's websites in the US.
Munro said: "This is a classic internet prank that could have very damaging consequences. It is entertaining to direct potential Ken voters to Boris's website or vice versa. What would happen, however, if some prankster redirected traffic to a pornographic website, or one which downloaded damaging spyware onto a user's computer?
Depending on their nature, cross-site scripting vulnerabilities create a means for hackers to insert a script redirecting users to another website entirely, or an 'iframe' that forces the site to display the content of a third party site. Customers of an Italian online bank were recently attacked in a very similar manner - however, that attack redirected their usernames and passwords to a hacker. ®