A "magnificent" 420kg meteorite crammed with "spectacular olivine crystals" failed to move buyers at Bonhams New York yesterday and went unsold, Reuters reports.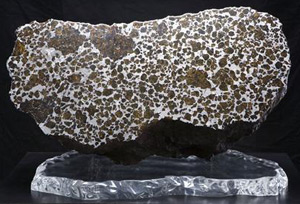 The 4.5 billion-year-old "Stony Iron Pallasite*" Fukang meteorite - discovered in China in 2000 - had been expected to attract bids in excess of $2m. Its attraction to collectors lies in its exceptional display of "large, highly refractive translucent olivine crystals", described by Bonhams as "unmatched by other pallasites".
On the day, however, prospective bidders were evidently more impressed with a couple of pieces of 130-million-year-old fossilised dino dung, aka coprolite, which sold to an anonymous phone bidder for $960 - more than twice the estimate.
The owner of the Fukang meteorite, Marvin Kilgore of the University of Arizona's Southwest Meteorite Centre expressed his bewilderment that enthusiasts would opt for crap rock over an "outer space gemstone" collectible, saying: "Some people want it on their shelves, I guess." ®
Bootnote
*Bonhams says pallasites are "composed of approximately 50 per cent olivine and peridot crystals and 50 cent nickel-iron", and "thought to be the relics of forming planets". They apparently make up less than one per cent of meteorites, hence Bonham's high expectations for the sale.