Dell has left customers shaking their fists this week after shipping an unspecified number of its Vostro 1310 and 1510 laptops in Europe with the wrong keyboard layout.
The embarrassing cock-up forces the Z key, which should sit beneath the A and S keys, along the row in Vostro laptops affected by the problem. Subsequent keys in the same row are also bumped along because the shift key is too big – making touch typing a tricky task.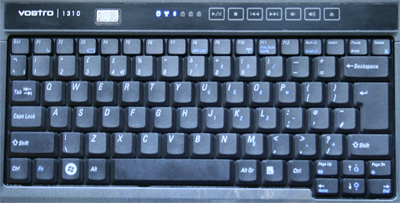 That shifty feeling
Jake Gordon alerted us to the massive blunder yesterday. He told us he had been on the phone to Dell for 20 minutes before the world's number two computer manufacturer admitted it was aware of the problem.
He said on his Flickr blog: "They keys are all there. Shift, \|, Z, X... its [sic] just that the left shift is too big, forcing everything over too far. The Z has to be between the A and S... look on ANY other keyboard and that's where it sits. This is not a US/UK layout issue, just a general monumental flaw."
We asked Dell if it could give customers a timeframe for when they can expect the issue to be resolved, and if it will be forced to withdraw any stock as a result.
However, Dell refused to offer any further comment on the blunder outside of this official statement:
"A limited number of Dell Vostro 1310 and 1510 laptops in Europe have been sent out with the wrong keyboard layout. We are working diligently to offer a solution to impacted customers and correct the error before any additional units are shipped.
"We will be contacting impacted customers directly to both apologise and instruct them on next steps. This issue is under investigation, and we will come back with more detailed information as soon as possible. We will be acting as quickly as possible to find a satisfactory solution for our customers." ®