This article is more than 1 year old
Lenovo ThinkPad X300 sub-notebook
Skinny, light and utterly desirable
Review The launch of the Lenovo ThinkPad X300 attracted plenty of comment from Register Hardware readers. 'Pah,' you said, 'who cares how thin a laptop is?'
'Why would anyone pay two grand for a Lenovo when the HP 2510p is available for about £1500?' you asked, and 'What is the 13in screen all about?'
There was a common view that the X300 showed up Apple's MacBook Air as a piece of inconsequential fluff, and while the Reg readership is collectively correct on that point it is pretty much wrong on the others because the X300 is utterly gorgeous.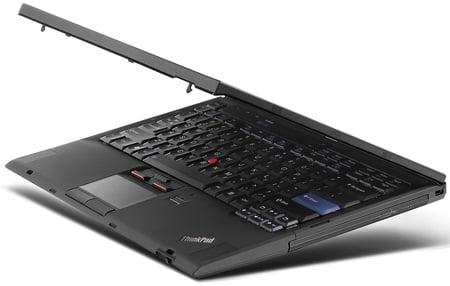 Lenovo's ThinkPad X300: light of weight but no lightweight
The key features of the new ThinkPad are the slender chassis, light weight and emphasis on energy efficiency. A regular laptop with a 14in screen, such as a ThinkPad T61, measures 335.5 x 237 x 27.6mm and weighs 2.34kg. It's a perfectly reasonable size and shape and is fairly portable, but it is eclipsed by the ThinkPad X300.
Although the screen is only slightly smaller - it's 13.3 inches across - and the dimensions are fairly similar - 318 x 231 x 23.4mm - the weight is a whole kilo less: 1.33kg. That's the weight of the cut-down model with a three-cell battery and no optical drive, while our review unit had a six-cell battery and a super-slim DVD writer that together raised the weight to 1.54kg. Even so, the X300 is very light.

Flat pack
Even the power cord and AC adapter are lightweight, together amounting to 370g. So the travel weight of the package is well under 2kg.