This article is more than 1 year old
Added green burden could ground flying cars for good
Get off my flying car, hippies!
Analysis Regular readers of the Reg will be familiar with the many obstacles that lie between us and our long-desired flying cars. Unfortunately, rather than any boxes being ticked off on the checklist, it rather appears as though yet another has been added. More and more, people seem to expect their already difficult enough flying car to be green.
An example of this cropped up last weekend with the annual Electric Aircraft Symposium taking place (where else?) in San Francisco. The event is run by the CAFE Foundation, the same volunteer non-profit group that handles NASA's rather cheapskate Personal Air Vehicle (PAV) annual tech prize programme. Many luminaries in the PAV world were at the electric flight symposium. (NASA formerly had a PAV programme of its own, supposed to produce a working "Tailfan" aircraft by 2009, but is was cancelled in 2005.)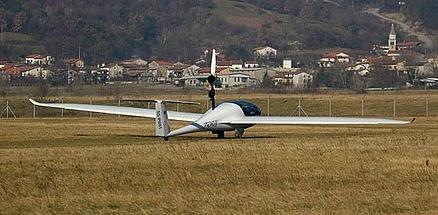 Even less like a flying car than before.
PAVs are a (somewhat) more realistic version of the flying car concept. Rather than a miraculous, silent, hover-capable wingless machine, all you get is a very advanced light aeroplane. It can take off after a very short run, yet is still quiet enough not to upset people nearby.
Hopefully, the PAV can fold its wings and drive about on roads like an ordinary car. Best of all, it can more or less fly itself, even in very crowded airspace and bad weather - presumably with the aid of a very advanced automated air-traffic-control infrastructure.
All this might allow PAVers of the future to take off from a handy little airstrip-layby at the end of their street, happily zoom through nil visibility conditions along with tens of thousands of other PAVs, and descend to land on a short strip at the mall or the office carpark.
If the PAV was as safe in use as existing aircraft, this would all be much less dangerous - both for fliers and people beneath - than ordinary ground vehicles are. (People might not appreciate this last point, of course, as they would be more inclined to notice rare deaths from the odd PAV crashing though a roof - probably quite slowly, hanging below an emergency parachute - than the routine slaughter among drivers, passengers and pedestrians today.)
That leaves a lot of new stuff to be invented, of course. Automated, higher-volume air traffic systems are at least on the drawing board; but quiet, short-takeoff, roadworthy self-flying planes certainly aren't. The best that's likely to be available soon is the excellent-looking Terrafugia Transition, which offers only one of these things - road mode. And the Transition certainly isn't green, getting a measly 25 miles per gallon, though at least it can use unleaded fuel (most light aircraft still can't).
But sadly, the talk among the PAVers in San Francisco at the weekend was all of adding a green-tech hoop to jump through along with all the rest. The annual PAV challenge, indeed, has now wandered further yet from the original NASA flying-car programme and is now re-branded as the General Aviation Technology Challenge - with, of course, a Green Prize starting in 2008.