This article is more than 1 year old
How to destroy 60 hard drives an hour
Driller killer
Disk drives are extraordinarily resilient. I've seen one that had been run over, dropped in a toilet and then thrown out of the window of a seven-storey office block. It looked unusable. Kroll Ontrack managed to recover virtually all the data on it by drying it and taking it apart.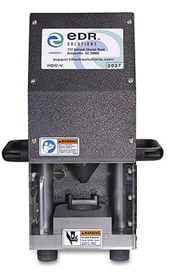 Hard disk crusher
Clam shell casings are very strong and deleting data doesn't work effectively, and passing magnets over the disk isn't sure enough. Even repeated writing of zeroes isn't necessarily effective and certainly takes a long time.
So, if you really, seriously, want to render your hard drive unreadable and haven't used major league encryption of all its contents then what can you do?
Drill the little sucker right through its spindle heart is one answer.
EDR Solutions sells a machine to do just this. It's inaccurately called the Hard Disk Crusher but it doesn't crush the drive. Instead it drills through the spindles and this creates ripples in the platters rendering them effectively unreadable.
It can destroy the readability of disk drives at the rate of 60 an hour, taking 10 seconds once the disk is clamped in place. One EDR customer rendered 800 unreadable in just one day.
The machines costs $11,500, which includes a one-year warranty (return to factory).
More information here ®.
© 2008 Blocks & Files.com