This article is more than 1 year old
Freesat launches in UK
Many channels, more coming, but not much HD yet
Freesat, the UK's latest package of free-to-air TV channels, this time transmitted from a satellite, has now gone live, allowing comsumers access to standard-definition and HD broadcasting for a single, one-off payment.
What the company couldn't say today is precisely what that payment will be. SD-only kit will be priced from £49, but the entry point for HD-capable receivers was quoted as £120, though the first boxes available, Humax's Foxsat HD and Grundig's wonderfully name Gufsat, are priced at £150. Fortunately, Grundig's Bush subsidiary has a £120 HD box in the works.
Panasonic will be offering two 42in and 46in HDTVs with integrated Freesat receivers in June. A third, 50in screen will go on sale in July.
Then there's installation, which Freesat today said will in the region of £80, though the exact figure will depend on the nature of the property to which the dish will be connected and where in the country it's located.

Humax's Foxsat HD
Freesat is broadcast from the same Astra satellite as Sky and from the Eurobird satellite so at least 98 per cent of the UK's population are located within its ground footprint. That's rather more than the percentage capable of picking up the terrestrially broadcast Freeview, at least until the analogue switch-off and an increase in Freeview's signal strength.
The two free services are competitive. Freesat's pitch is not only HD but also a far greater selection of channels than Freeview offers. From today, Freesat is transmitting 80 radio and TV channels, and it expects to increase that total to 200 by the end of the year.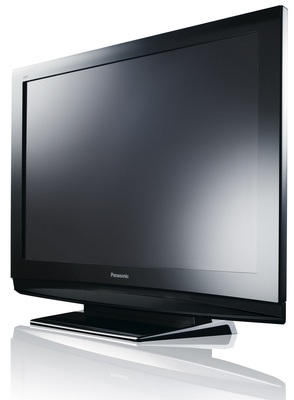 Panasonic's TH-42PZ81
So far, only the BBC is offering HD content, but Freesat promised high-definition programming from ITV "quite soon". The ITV material will be offered on an exclusive basis, much as Channel 4's HD programming is only available to Sky users. While the olympics will be broadcast in HD this summer over Freesat, overall the service's HD content will be limited. Even today, not all the BBC's primetime output is in HD.
Freesat said it was leaving the decision as to which HD resolution to broadcast in to the channels themselves. And while the company said it had sufficient bandwidth for its channel expansion plans, it doesn't appear to have mandated minimum bit rates - one reason for the wide diversity of programme picture qualities seen on Freeview. It hasn't fixed the SD resolutions that broadcasters can use, either.
Freesat transmissions use the DVB-S and DVB-S2 standards, and support Dolby 5.1-channel sound, along with MPEG 2 and MPEG 4 codecs.
Update

Readers have been asking about using Sky dishes with Freesat. Freesat responded with a cautious 'check with your retailer', but that's because they believe this may void the warranty on new and new-ish dishes. There are also a small minority of non-Sky dishes out there that won't necessarily work with Freesat because they're pointing the wrong way.
However, it seems clear that if you already have a Sky dish, you can hook it straight up to a Freesat box.
And what of Freesat of yore? Sky touted this service a while back as a way of getting free-to-air channels using one of its boxes. Essentially, it has matured, gained a new logo and some more content and come to market as a mass-market propostion rather that a cut-price Sky offering.