A glitzy London hotel was this morning's setting for the launch of HTC's new handset, Diamond, the latest phone in a long line of would-be iPhone killers.
The Diamond is roughly the same size as Apple's iPhone, although the HTC device has a smaller, 2.8in touchscreen - the display's resolution is a much larger 480 x 640, though - and a zig-zag backing 'borrowed from Nokia's similarly styled 7900 Prism – reviewed here.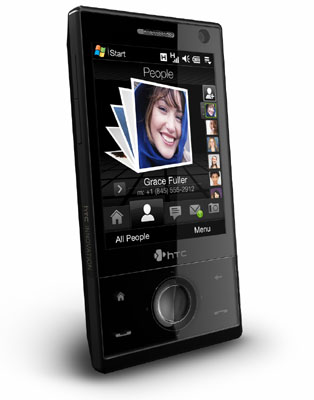 HTC's Diamond: 2.8in VGA touchscreen and a 3D menu system
Users are guided around the Diamond by TouchFlo 3D, the latest incarnation of the Windows Mobile skin launched by HTC a year ago. TouchFlo 3D is also freakishly similar to the iPhone's interface, with the music folder, for example, allowing users to rummage through tracks by viewing an album's front cover.
Sadly, a "proprietary headphone connection" is built into diamond instead of a standard 3.5mm headphone socket. HTC claimed such an option would have made the phone bulkier. The smartphone has 4GB of internal storage, and there's a Micro SD card slot for further expansion.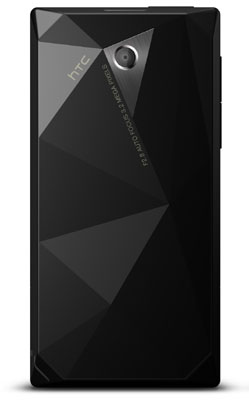 The phone's rear hides a 3.2Mp camera
If you're more into snapping images than listening to music, then there's a 3.2-megapixel camera on board and the phone's internal accelerometer allows images to be viewed either horizontally or vertically with a flick of the wrist - again much like the iPhone.
An iPod-style control wheel is the phone's main control dial for, say, flicking though piles of images or your list of contacts - which are displayed like an old fashioned Rolodex. The wheel's also used for zooming in on webpages - all downloaded quickly thanks to the phone's 7.2Mbp/s HSDPA connection.

Diamond is 11.3mm thick - but you can thicken it with an extended-life battery
Although the handset runs on Windows Mobile 6.1, Opera is the chosen web browser. Microsoft's senior vice president of mobile business communications, Andy Lees, said this is because "Microsoft is in the middle of updating IE, so the timing of the device's launch meant it wasn't suitable for IE 6".
In addition to 3G, the Diamond supports tri-band GSM/GPRS/Edge links. It'll also guide users around at street level, because both GPS and Assisted GPS feature - though you'll have to buy navigation software separately.
HTC said that Diamond will be available in the UK next month, but a price hasn't been decided yet. The manufacturer did confirm though that all five major UK networks will be selling the phone.