This article is more than 1 year old
'Mad Scientist' developing powered suits for US military
Will dominate everywhere within reach of a power socket
Powered exoskeletal suits are big right now, with the movie Iron Man all over the place. US defence tech giant Raytheon has decided to ride the ink surf, issuing some opportunistic statements and and photos of its ongoing military powered suit programme.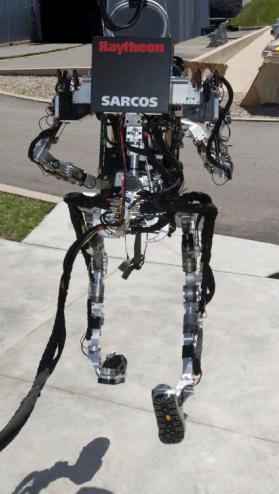 The rogue exoskeleton, intent on
wreaking vengeance upon its fleshy creators, had
forgotten about the power-cable issue
Raytheon's Exoskeleton is actually being developed at Sarcos, a Utah company bought last December - perhaps with an eye to the Iron Man release date. On this occasion we are happy to be their compliant media puppets.
Asked to describe his work, Sarcos boss and former owner Dr Stephen Jacobsen said: "People call it different things... Sometimes they call it being a mad scientist."
Mildly worryingly, at the time of being bought by Raytheon, Jacobsen said "joining with Raytheon will help to move our technology from research and development to execution". One should note, however, that as yet the Sarcos kit is unarmed, and at present trails an inconvenient power cable. Should the Salt Lake City cops ever get into a situation with a supervillain of any kind, there will sadly be little chance of Jacobsen suiting up and bringing vigilante style super-soldier justice to their assistance.
Rex Jameson, test engineer/pilot of the XOS mechwarrior suit, can clean-and-jerk hundreds of pounds of free weights with infinite reps when clad in his powered kit. It's certainly a palate-cleansing change from Japanese exoskeletons designed to help people. The XOS is currently aimed at loading enormous cannon shells, or heaving boxes of ammo about, but it probably won't stay at this level forever. Given an independent power source, a bit of armour, perhaps an enormous gun that an unassisted soldier couldn't fire due to the recoil - now we're getting somewhere.
"As far as software engineering goes, this job is about as good as it gets," said Jameson.
Real world, however, one may note that Sarcos has had the suit under development since 2000 and it doesn't seem anywhere near ready for prime time. Also, even if the tricky problems of limb articulation can be fully solved, there are a few other little issues to be sorted out. Power, for one - this baby won't run on batteries. Then there's the matter of fitting suits to individual soldiers - potentially very expensive and time-consuming, depending how tolerant of variation the kit is.
One might also suggest that the powered armour in Heinlein's classic Starship Troopers (the book, not the film) might make a better reference than Iron Man - though regrettably not so topical.
More photos from Raytheon here. ®