MS UK kills mystery 'Live to Code' site
Misconfigured marketing offshoot pulled
---
Microsoft has pulled an apparently rogue internal marketing project that sat quietly, but not unnoticed, on the same servers as its main UK website for at least a fortnight.
For at least two weeks leading up to Tuesday (6 May) surfers visiting http://microsoft.co.uk got a somewhat minimalist "Live to Code" page, rather than the main UK website they might have expected to see. The main www.microsoft.co.uk site worked normally throughout.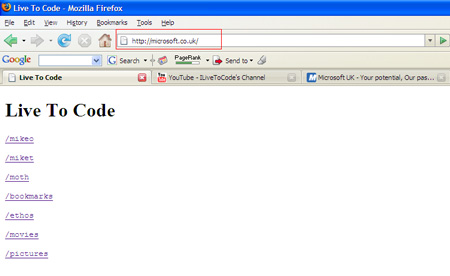 Live to Code - rogue marketing offshoot pulled.
The "Live to Code" page, by contrast, displayed a list of sub-directories linking to pictures of what appeared to be marketing collateral on sites such as Flickr and YouTube.
This microsoft.co.uk page had the same CNAME as the main site, indicating it was on the same server. Furthermore, www.theeducationcommunity.com, resolved to the same IP address (http://217.64.231.177), until Microsoft sorted out the confusion on Tuesday night.
Reg reader Ian notified us of the Live To Code site on 23 April, prompting our initial inquiries. He thought the site was the result of a DNS hack.
Not so.
Another reader, Simon, came up with a much better theory, when he contacted us on 1 May. "My guess is that someone tried to set up the latter [Live to Code] using MS UK's existing servers, but changed the default website in IIS instead of creating one specifically," he said. "It seems someone might have made a boo boo at Microsoft UK."
Microsoft pulled the Live to Code site, following repeated inquiries from El Reg, on Tuesday. It is yet to explain what was going on. Microsoft's UK site is administered from the US and this factor has made it more difficult to uncover what was going on.
In a statement, Microsoft said the Live to Code site is "legitimately associated with Microsoft and is not serving malware", without explaining its purpose. ®