Palm's anticipated Treo 800w is thought to be what the company's calling 'Zeppelin' - a very unfortunate codename, given the originals' tendency to crash and burn. But what about its 'Skywriter' product?
An email allegedly sent by Palm to software developers - and from one of them to blog TamsPPC - confirms both the Zeppelin and Skywriter codenames. The letter is an invitation to submit apps that might be highlighted at the devices' official launch.
There was a piccy included with the invite, the blog claims: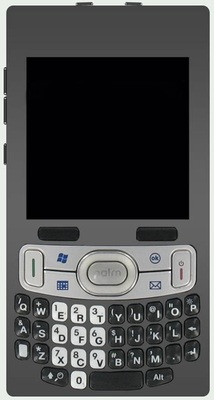 Palm's 'Skywriter'?
Image courtesy TamsPPC
The pic's said so show a mock-up, and looking at this slab of a smartphone - particularly the relatively small screen area - we also wonder if it's not a concoction compounded to confuse the bloggers.
Still, if HTC's Diamond, launched yesterday, is anything to go by, the 'straight lines and curved corners' look is this season's new smartphone style, led by the iPhone, LG's Prada handset and Samsung's F700.
If the picture is in any way genuine, it's got a Windows Mobile key, so it's clear what OS it'll be running.
There's nothing down about specs. Reports elsewhere on the web claim the Zeppelin/Treo 800w will have a 320 x 320 display, EvDO - a US 3G technology - Wi-Fi and GPS - all firsts for a Palm Windows Mobile device, some first for Palm full stop.
If all this is true, it's likely to piss off SkyWriter Software, which already uses the alleged codename for its aviation software. The application runs on both Palm and Windows Mobile operating systems... Maybe SkyWriter would like to apply to have its app highlighted at Palm's launch?
Related Reviews
Palm Centro
Palm Treo 500v


Sponsored: Webcast: Discover and secure all of your attack surface