The son of a landscaper father and a mother who taught middle school, SoBe came of age in Boca Raton, an affluent town about an hour's drive North of Miami made up mostly of older retirees. After quitting school, he spent much of his days coding in C++ and frequenting IRC channels related to hacking. It was in a now-defunct channel called #bottalk that he met Ancheta, who typically went under the moniker Resilient.
"He stood out from all the other people basically because he didnt bullshit people," SoBe recalled. "Most people you meet in the bot scene will claim they have xxxxx amount of bots but they dont and they lie about everything."
Unlike the others, Resilient had proof that he had sizable botnets under his control.
"You can't really lie about that when you take screenshots proving you have well over 70k," SoBe said. "It's hard to fake hundreds of exploit messages with unique IP addresses and a picture of him in a channel with 60,000 users."
SoBe was also drawn to Ancheta's social flair as demonstrated, among other things, by a MySpace profile that was packed with photos of his souped-up BMW and passel of photogenic friends. "He isnt like your average computer nerd," SoBe explained. "He actually goes outside, has fun, partys."
Not all their hacking was business related. The two were part of a posse that defaced websites by compromising, or "rooting," vulnerable servers. They took great pride in their mischievous exploits, which they documented with graffiti they left behind. The screenshot below, from the recently closed Zone-h.org website, documented the digital scribbling they left one site.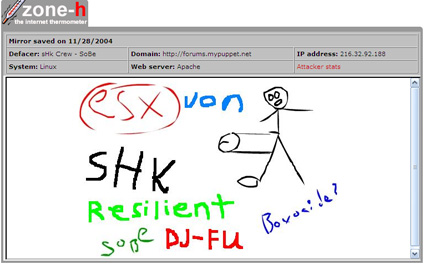 SoBe and Resilient were here
But by and large, SoBe and Ancheta's relationship was about making money. When they first met, Ancheta's business model was in the midst of a major overhaul. He had been renting out his bots in a channel titled #botz4sale, but despite brisk demand, he hadn't been able to bring in the kind of money he hoped for. (According to fees tracked by prosecutors, it was less than $3,000, although the true fee was probably higher.)
Ancheta recruited SoBe to help him launch a new scheme installing adware on Ancheta's fleet of compromised machines and using them to generate pay-for-click affiliate fees from companies such as Gamma Entertainment, which ran a program called GammaCash; and CDT, which offered a program called LOUDcash. The new revenue model was an instant success.
"It's easy like slicing cheese," Ancheta typed, to which SoBe responded: "I just hope this [LOUDcash] stuff lasts a while so I don't have to get a job right away." In about a year, investigators tracked more than $58,000 in revenue from the scheme.
Next page: That Unstoppable Feeling