Iubi Blue personal media player
Not a bad box of tricks
Review Anyone after a portable 30GB media player is quite possibly going to end up with either a Cowon A3 or the Archos 605, both of which we liked. Many might argue, however, that list should also include the Iubi Blue.
The Blue and the A3 share some pretty similar dimensions - 131 x 79 x 22mm and 133 x 79 x 22mm, respectively - causing us to suspect more than a few common components. In fact, the jack layout on the left-hand side of the Blue and A3 are actually identical.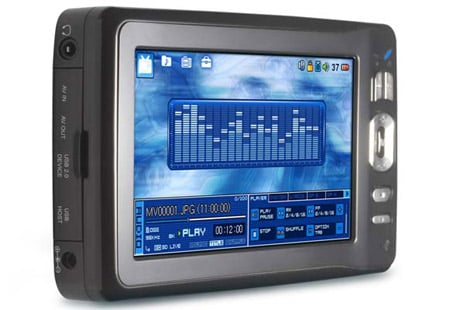 Iubi's Blue: modest display
In the hand, the Blue is all about black plastic. It squeaks a bit when squeezed and shows up fingerprints like a vault door in a bad detective film. We don't reckon it will fall apart any time soon, but it lacks the feeling of quality innate to both the 605 and A3.
Compared to the competition, both of which boast 800 x 480 screens running at a resolution of 480 x 800, the Blue trails behind with a more modest 480 x 272. Like the A3, the Blue will support video resolutions higher than it's actual screen resolution, in this case up to 720 x 480. As with the 605, the Blue's display measures 4.3in, but unlike its rivals, it only supports 256,000 colours and not the larger 16m-colour palette as the others do.
The Blue can't compete with the Cowon A3's phenomenally comprehensive format and codec support, but it doesn't do too badly, supporting MPEG-1, 2 and 4; DivX 3, 4 and 5; Xvid; WMV 9; H.264; AVI and OGM files for video, and MP3, WMA, WAV, OGG, AC-3, ASF and AAC-LC for audio. The majority of unsupported files can be bludgeoned into submission using the supplied transcoder software.
The controls are something of a mish-mash. A four-way navigation pad surrounds a central key labelled 'M' which you think intuitively would be the action key, given its location. Not so, to make something happen you actually press the Play/Pause key below the pad, while the Stop key is also the 'back' button. What the M key actually does is take you to other parts of whichever menu is on display.