Toshiba to ship laptops with Cell-based GPUs this year
And putting PS3 processor into TVs in 2009
---
Toshiba has pledged to begin selling notebooks equipped with its oddly named SpursEngine graphics chip this year. SpursEngine is based on the technology that powers the PlayStation 3's Cell processor.
Outlining its post HD DVD growth strategy this week, Toshiba management said it will put its SpursEngine SE1000 chip into multimedia-oriented notebooks - probably the company's flagship Qosmio G40 - during 2008.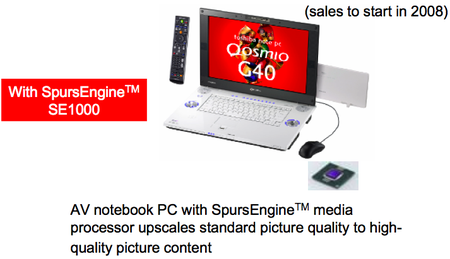 Toshiba's Qosmio G40: coming soon with SpursEngine
Toshiba announced the SE1000 in September 2007, and began sampling the product in April this year.
The SE1000 packs in four of Cell's Synergistic Processing Element (SPE) cores. Cell has up to eight SPEs to handle vector data, along with a PowerPC-based general purpose computing core for everything else.
Each SPE is a SIMD Risc processor specialising in single- and double-precision floating point maths. The SE1000 also has a memory controller on board that links the SPEs to 128MB of Rambus XDR memory over a bus capable of pushing data at 12.8GB/s.
The chip is capable of MPEG 2 and H.264 encoding and decoding at 1080p full HD resolution, and those are the applications it's pitching the product at rather than 3D graphics.
In April, Toshiba said it's partnering with the likes of CyberLink, Leadtek and Corel - all makes of widely used PC-oriented video playback apps - to add support for the SE1000 to their software.
That code will presumably go into the upcoming SpursEngine-equipped Qosmio, to allow it to deliver what Toshiba calls "Super-resolution" imagery. This is essentially standard-definition content upscaled to 1080p and beyond, but Toshiba believes the SE1000 will allow it to make a far better job of this existing task than its rivals can using standard interpolation algorithms.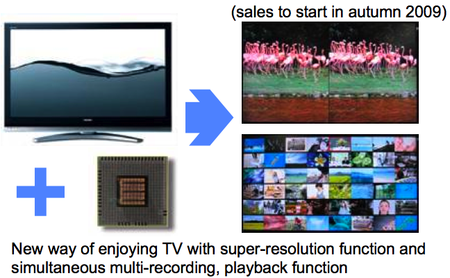 Cell-based TV: 14-screen picture-in-picture, anyone?
It said Super-resolution will be offered across its PC, TV and DVD player lines, and be pitched at the vast array of content available online that's still SD.
This is in addition to Toshiba's upcoming TVs fitted with Cell processors - a line it demo'd at the Consumer Electronics Show in Las Vegas back in January. Cell, it said, will allow its tellies to do fancy things like 14-in-1 picture-in-picture images.
The catch: we'll have to wait until the autumn of 2009 for these.
Similar topics
Broader topics