This article is more than 1 year old
Fedora 9 - an OS that even the Linux challenged can love
Plenty of muscle for hardcore nerds too
A Nod to Security
Also new in Fedora 9 is encrypted file-system support for much-improved security options like encrypted hot-pluggable devices, SWAP, and root partitions. Fedora 9's Anaconda installer will support encrypted partitions at install time, making it easy for the novice user to get a secure system up and running.
We had no trouble installing Fedora 9 from the Live USB stick that Fedora provided. Though the version we tested was a release candidate (RC1), we had no trouble resizing partitions, formatting disks and getting the GNOME-based spin installed and up and running.
Like other distros, Fedora ships in several different flavors (or "spins" as they're known in Fedora land) including a GNOME package and a KDE package as well.
The GNOME desktop spin ships with GNOME 2.22, which may not look any different from its predecessors, but it does add some nice new features like GVFS, which replaces the old GNOME-VFS system. GVFS offers a much more uniform interface so that Nautilus behaves the same regardless of whether you're browsing a connected Samba share, SSH connection or local disk.
Fedora 9 immediately recognized our wireless card and had no trouble adjusting to our Toshiba's display resolution. The usual GNOME apps were all present - Totem, Firefox 3b5, Pidgin IM, gEdit, GIMP, etc - though Fedora opts to use AbiWord and Gnumeric for the Live USB, since the OpenOffice.org suite would take up too much space.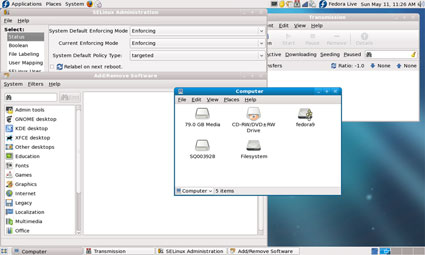 Fedora 9 Gnome Desktop and applications
Fedora 9 also ships with a new theme featuring a new set of default icons and artwork, all of which were created by the Fedora community.
Although we didn't chose to reformat our hard drive, Fedora 9 features experimental support for ext4, the next generation Linux filesystem. The ext4 filesystem itself is still in the experimental stage and while some of the work will be available in Linux kernel 2.6.25, it isn't ready for prime time just yet. Still, if you're looking to explore ext4, Fedora 9 has you covered.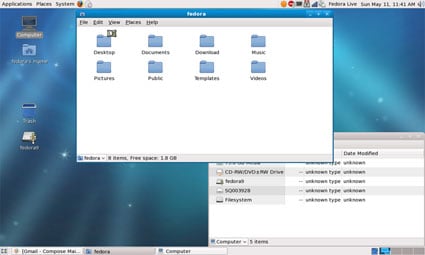 Default GNOME theme in Fedora 9
While the GNOME 2.22 spin of Fedora 9 brings a lot of nice evolutionary improvements, the KDE spin brings the exciting KDE 4 revolution to the Fedora desktop.
The new KDE look, dubbed Oxygen, is very slick, some might even say beautiful. Fedora is the first major distro to ship with KDE 4 enabled by default, but thankfully KDE 4 does support older applications that haven't yet been ported. Such apps won't be able to take advantage of the new features, but at least you can use them until new versions are released.
Fedora 9 also marks the first release under Paul Frields, Fedora project leader at Red Hat, who took over for longtime Fedora maintainer Max Spevack earlier this year. Fedora has also revamped its board slightly making the distro a more community-managed affair. The majority of the Fedora board is now made up of community elected members.
We spoke to Frields about the changes to the board and he said that the goal was to "create a more open governance model with greater transparency." The net result is that, more than ever, the community is the driving force behind Fedora 9.
Frields also talked about the future of Fedora, saying that the goal is to create "a paradigm where people who don't know anything about a computer's innards have the best shot at getting everything working." In other words, take the complexity out of the setup, something Fedora 9 does very well.
As for the future, Frields says that the Fedora community wants to reach out to people unhappy with their computer experience and "turn them on to a new way of information sharing, getting them to understand collaboration," and, in turn, the Linux experience.
There's more on Fedora 9 "aka Sulphur" here, and, as mentioned, it will be good to go on Tuesday.®