Kiwi airliners converted into giant iPod docks
'Your aircraft becomes an authorised Apple accessory'
---
A generation of unprecedentedly large and fast iPod docks is now on offer, and it has now been announced that firm customer orders have been placed.
Air New Zealand will equip eighteen of its airliners with in-flight entertainment rigs allowing iPod users to play their video on seatback screens, listen to audio through the aircraft system, and control their device via the plane's interface.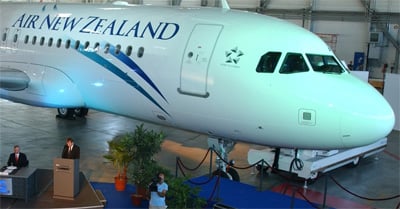 No sign of the Apple branding yet...
Flight International reports that the Panasonic X Series in-flight entertainment system, which was trialed last October, will be fitted to 13 Airbus A320s and five Boeing 767s operated by the Kiwi carrier "in the near term".
X Series kit is capable of offering broadband internet connection, VoIP, secure payments and indeed pretty much anything you might expect from a computer/media centre, depending on the options selected by the airline. And of course there is the iPod hookup - under which, according to Panasonic, "your aircraft becomes an authorised Apple accessory". Air New Zealand have also selected "USB media player" options, however, so owners of other portables may also be able to get in on the action.
There are also various networking options for laptops or other devices, and the usual moving-map interface with the aircraft's navigation systems. No doubt there's a strong firewall in place between the passenger seats (and the possible global internet hookup) and the aircraft's actual flight systems.
Read the Flight report here. ®