This article is more than 1 year old
Sony OLED TV longevity claim challenged
Quoted lifespan not realistic, claims analyst
Sony has downplayed allegations that its state-of-the-art OLED TV, the XEL-1, has a fraction of the longevity the manufacturer claims it has.
Sony told Register Hardware that it stands by its statement that the XEL-1's brightness drops to 50 per cent after 30,000 hours of usage, despite independent tests that showed the set's average half-brightness time - a standard measure of display longevity - is closer to 17,000 hours.
The test was conducted by market watcher DisplaySearch. It told Register Hardware it ran two XEL-1s alongside each other for 1000 hours, one showing a plain white picture, the other video footage. From the inevitable dip in brightness, it calculated how long it would be before the luminance fell to 50 per cent.
Like all colour TVs, the XEL-1 colours its pixels by mixing different intensities of red, green and blue light. DisplaySearch found that, during the 1000-hour test period, the ability of the two screens to display blue had degraded by 12 per cent. A seven per cent drop was recorded for red and an eight per cent decline for green.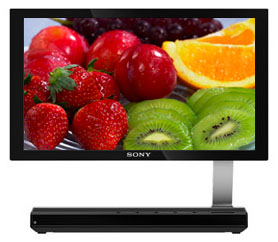 Sonys XEL-1 OLED: longevity called into question
We asked Sony to respond. "Sony stands by its claim of the XEL-1 product's average life to half-brightness of 30,000 hours," came the reply.
Sony wouldn't comment on DisplaySearch's specific findings becuase the analyst "has not provided details on testing". So perhaps the two companies should get together and share figures?
It's well known that OLED displays have a shorter lifespan than LCD and plasma screens though, with the typical half-brightness lifespan of an LCD, for instance, being between 50,000 and 60,000 hours.
Those figures translate to 5.7 and 6.9 years, respectively. If that doesn't seem long, bear in mind that the figures are for continuous use. In the real world, the amount of time that TVs are turned off or set on stand-by pushes the practical half-brightness lifetime out to several decades - much longer than the average time consumer keep the same set.
Sony's figure for the XEL-1 comes to 3.5 years, falling to 1.9 years if you use DisplaySearch's timescale. Again, the practical life of the TV is going to be rather longer than that.
However, both numbers highlight the shorter longevity of OLED. These panels degrade over time, as oxygen and water molecules penetrate the screen's sandwich of different organic chemicals. That, in turn, reduces the screens' ability to display colours consistently.
Fortunately, a Singapore research firm recently announced the invention of a plastic film which it claims can boost an OLED's lifespan by reducing the number of molecules able to seep through the protective layer.